Els Vandeweyer
Submitted by
caribu
on Tue, 2010-02-09 12:21.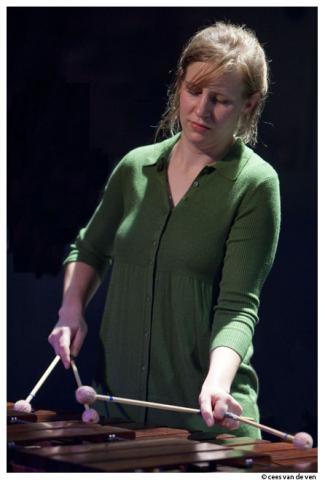 Els Vandeweyer is a Belgian vibraphonist and composer currently living in Berlin, who specialises in exploring the middle-ground between classical, jazz and free improvised music.
Vandeweyer began her musical career on the classical path, focusing on contemporary pieces while studying at a performing arts school in Antwerp, but when she noticed how many pieces simulated the feel of improvised music she yearned to play the real thing. She decided to study jazz at the Royal Conservatory of Brussels where she graduated in June 2008, but she spended almost two years abroad during her studies, in Portugal, Norway and the United States.
In Portugal she co-founded the IMI Kollektief quintet, with whom she recorded her first album ´Snug as a Gun` for Clean Feed-label. In Oslo, Norway, she studied one year as an exchange student at the Musikhogskule and worked sporadically with Ingebrigt Haaker Flaten and Paal Nilssen-Love. After Norway, Ken Vandermark invited her to spend a few weeks performing in Chicago and so she played with Fred Lonberg-Holm, Kent Kessler, Tim Daisy and Jeff Parker among many others.
As soon Vandeweyer has moved to Berlin she became heavily involved in the thriving improvised music community. She co-founded her trio Tulip Trees with Almut Kühne and Brian Mitchell and is mainly improvising in different kind of settings.
"By far the most interesting player on the set, Vandeweyer also emerges as the most interesting composer, with the oddly melancholy "Fucked Up" and the genre-shuffling "Hole in My Sole." [****] Penguin Guide to Jazz Recordings (IMI Kollektief, "Snug as a Gun")
"Belgian vibraphonist, Els Vandeweyer, began her musical career on the classical path, focusing on contemporary pieces while studying at a performing arts school in Antwerp. The IMI Kollektief's sole recording, "Snug as a Gun" (Clean Feed, 2006), offers the only extended evidence of Vandeweyer's work; while the songs are spiky and agular, her harmonically rich, jagged lines recall the golden era of Blue Note Records, when Bobby Hutcherson was a fixture." - Peter Margasak, "Chicago Reader."
"In particular, my ears keep finding Els Vandeweyer and her vibes; there's something I can't put my finger on that keeps her from sounding like other jazz vibists I've heard. And her tune "Fucked Up" is my favorite track." - KFJC Online
"Unafraid of tradition, the IMI Kollektief mines rich territory with Vandeweyer's vibes evoking the experimental zeal of the more adventurous 1960's Prestige and Blue Note sessions." – All About Jazz
(quotes from http://www.myspace.com/elsvandeweyer)