Feministisch Kämpfen Festival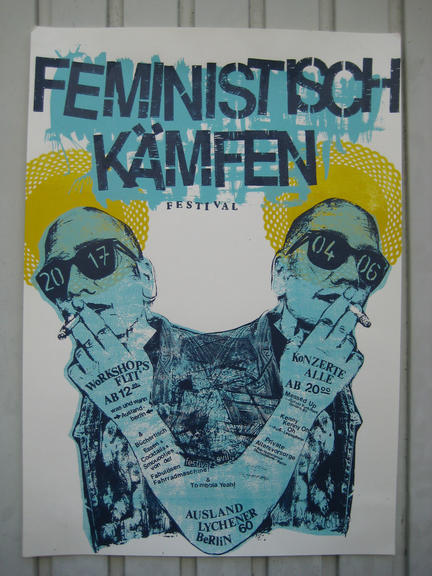 Nachmittagsprogramm:
12:00-14:00 Radioworkshop mit Radio F*
zwischen 12-14 Uhr setzen wir uns mit Interview- und Aufnahmetechniken auseinander, danach machen alle, die wollen, eine Reportage über´s Festival, die später im Juni gesendet wird. Mehr über Radio F* erfahrt Ihr hier
Der Workshop ist auf deutsch. Übersetzung bei Bedarf.
14:00-16:00 Selbstverteidigung

16:00-18:00 Beleidigungsworkshop
Austausch zu Beleidigungen im öffentlichen Raum.
Welche stereotypen Beleidigungen begegnen uns? Wer wird wie beleidigt? Welche Strukturen stecken dahinter? Wie gehen einzelne mit Beleidigungen um? Wie mit den Strukturen? Was können wir tun, um Beleidigungen nicht mit uns herumzuschleppen? was können wir erwidern?
Im Workshop wollen wir uns zu diesen und weiteren Fragen austauschen. Der Workshop ist auf deutsch. Übersetzung bei Bedarf.

18:00 - 19:00 whistle your troubles away
Whistle/Pfeifworkshop.
Workshop will be in english.

Für alle Workshops gilt: Keine Anmeldung nötig. Vorbeikommen. Mitmachen.
You don´t need to register for the workshops. Come and take part!
Abends Konzerte ab 20:00
Private Altersvorsorge Bierfeminismus Deutschpunk / Berlin

Messed Up Girlzzzz Punk Rock Grodno / BY

Kenny Oh Oh Punk Leipzig/Berlin

und dazwischen Tombola mit Glücksfee für den guten Zweck!
Das ausland ist nicht rolligerecht. Es gibt 2 Treppen, bei Bedarf helfen wir wir gerne.
Due to two flights of stairs ausland is not wheelchair accessible. Assistance will be provided.