raudio aasland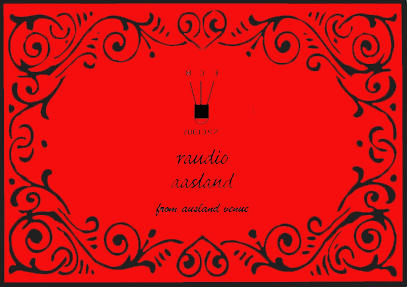 listen here to raudio aasland shows
raudio aasland is the name of ausland's fm radio show. it was started in 2004 for a temporary radio station called reboot.fm. For the three months bootlab e.v.'s radio station was on air, ausland produced a weekly show moderated by ausland curators and friends.
After 2004, raudio aasland was continued in irregular intervals, e.g. one show at resonance fm, a londoner radiostation, a few shows in berlin at radio einszueins in july 2006 and in january 2008 at radiowoche. in 2009 ausland produced 12 further shows in three month for herbstradio.org, a fm radio station organised by klubradio and radiopiloten.
Since 2010 a frequency for uncommercial radios exits run by the medienanstalt berlin brandenburg. This is not what activists for a free radio campained for in the last years, because the radio station is not operated by those who make the program, but rather by a government agency. So the program of this station is a mixture of shows from different radiomakers that fill the programm without having anything in common.
The content of raudio aasland consists of music collections, dj sets, interviews with artists, live concerts, radio plays, social interactions, abnormal features and concept art.