Orchestra Elastique
Submitted by
caribu
on Tue, 2010-12-21 09:48.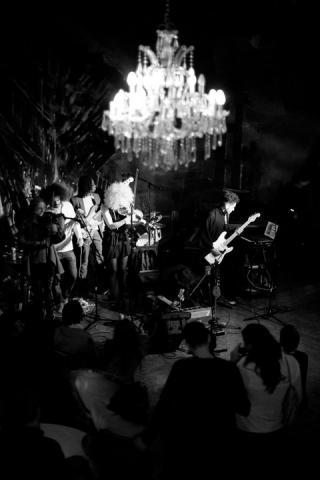 Orchestra Elastique is a London-based music improvisation collective. Formed during a residency at the Shunt Vaults in April this year, Orchestra Elastique comprises a group of performers and multi-instrumentalists which can vary in number depending on the venue and performance in question. The core members of Orchestra Elastique are Joris Beets, Fiona Bevan, Antoine Gilleron, Bruno Humberto, Nahum Mantra and Tristan Shorr.
The genesis of this project began as the experimental noise and improvisation group 'Sound Through'. Interested in sound and architecture and how notions of place affect the physicality of music, Sound Through experimented with site-specific sound and performance projects at various sites and venues around London in 2009. After several residencies at Shunt this group disbanded and in its place formed Orchestra Elastique.