HIKASHU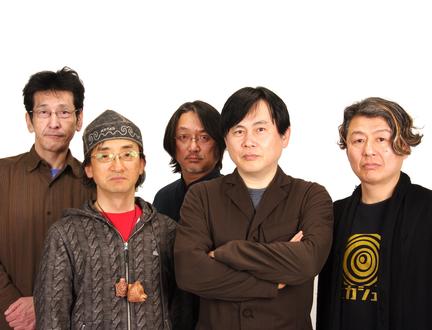 HIKASHU:
Makigami Koichi - vocal, theremin, cornet, shakuhachi
Mita Freeman – guitar
Sakaide Masami - bass
Shimizu Kazuto - piano, synthesizer, bass-clarinet
Sato Masaharu - drums
http://www.makigami.com/hikashu/ | https://en.wikipedia.org/wiki/Hikashu
Doors 21:00, concert 22:00 | @ facebook
no pre-sale, tickets at the door only!
With roots in both the late-'70s new wave scene and the world of underground theatre, Hikashu's evolution over the years has seen them increasingly incorporating elements of spontaneity and improvisation into their music.
Vocalist Makigami Koichi came to music accidentally, through the need to compose original music for his theatrical work. Joining him was high school friend Mita Freeman, who became Hikashu's guitarist and Makigami's onstage foil. Through this experience, Hikashu was born in 1978, quickly taking on a life of its own.
Hikashu's 1979 single "At the End of the 20 Century" featured Makigami's distinctive vocals and the then-pioneering sounds of synthesisers and rhythm box, and gave Hikashu their first wide re- cognition as an avant-pop band. Finding the pop world restrictive, they began to carve their own more self-sufficient path, eventually in 2003 settling around a lineup featuring bassist Sakaide Masami, keyboard player Shimizu Kazuto and drummer Sato Masaharu.
The addition of experienced improvidors Shimizu and Sato allowed Hikashu to take an even more experimental path, recording the 2005 album "Ten Ten" solely from improvisations and per- forming comfortably in both jazz settings such as the Yokhama Jazz Promenade and Jazz Art Sengawa, and broader rock events such as the Fuji Rock festival.