Kesten & Capece / Erel / Vitková & Hülcker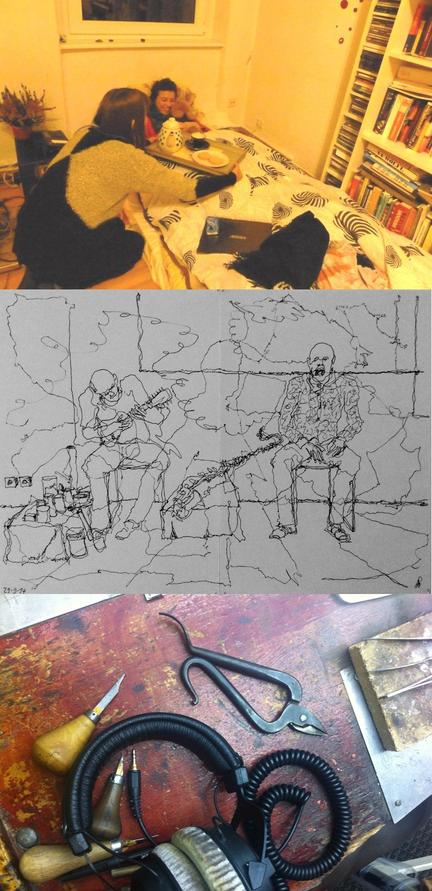 Lucio Capece – soprano saxophone, bass clarinet, objects
Christian Kesten – voice, objects
Korhan Erel – computer, electronics, controllers, field recordings
Mahreç
Sınıf Mücadelesi

Little Things
Lucie Vítková – 2 accordions, voice
Neele Hülcker – keybord, electronics
Christian Kesten and Lucio Capece regularly play as a duo. In usual and unusual spaces for music activity. They have also worked in a larger group together with Radu Malfatti, Julia Eckhardt, Taku Sugimoto and Toshimaru Nakamura. Kesten-Capece's work melts with the outside in a subtle counterpoint of carefully constructed music and "ambient" attitude. This includes song, considering it as background sound of everyday life and the open spaces that the presence of bodies provide, considering them not only as tools that play music instruments.
Berlin-based computer musician and composer Korhan Erel presents two aural stories in his solo performance. Erel performed both pieces for the first time at Museum for Applied Arts/Contemporary Art in Vienna (Museum für Angewandte Kunst Wien) in April 2013. The first story is Mahreç. It's a 10-minute piece based on recordings of two women designing jewelry at Mahreç, a jewelry workshop/school run by master designer Hıraç Arslanyan in the Cağaloğlu district of Istanbul's old town. Jewelry design is mainly considered an Armenian craft in Istanbul and most of its masters are still from this community. The second story is Sınıf Mücadelesi, which is Turkish for "class struggle". The main sonic component of this story is a recording made on a hotplate whereby water droplets, trapped between the hotplate and a teapot, try to escape, to rise up. Korhan Erel also plays short textural improvisations with his computer instruments built using field recordings, home recordings and found sounds.
Lucie Vítková's and Neele Hülcker's Little Things is a series of short examinations, each dealing with a different musical reality, combining acoustic and electronic media, voice and keyboards, accordion and sampler or accordion and field recordings. Their starting point is the different possibilities and perspectives of the interior and exterior spaces of our instruments. They use the inside space of the accordion as a resonating cavity for a loudspeaker as well as the interior and exterior sounds of the venue they are playing in. The music grows from the character of the individual instruments and their combination. They describe themselves as the puppeteers of our tiny set-up, zooming into different scenes.
Supported by INM – Initiative Neue Musik Berlin e. V.
Doors: 8.30 pm
Concert start: 9.00 pm