"Alter Schwede!" 2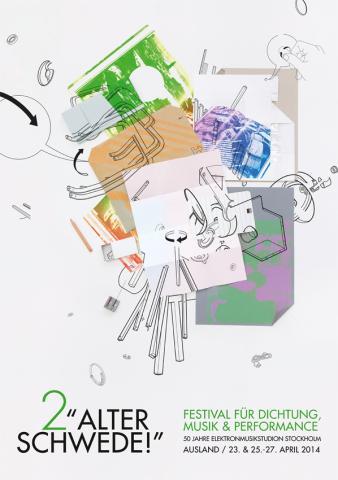 Festival für Dichtung – Musik – Performance
50 Jahre EMS Stockholm
ausland in Kooperation mit EMS | 23. und 25.-27. April 2014
Nach der ersten, begeistert aufgenommenen Ausgabe im letzten Jahr widmet sich das Festivalformat "Alter Schwede!" 2014 zum zweiten Mal dem offenen Grenzverkehr: Künstlerinnen aus Schweden und Berlin kommen im ausland für ein interdisziplinäres Programm zwischen Dichtung, experimenteller Musik und Performancekunst zusammen. Viele der Auftritte entstehen in einer Probenphase aus neuen Duo-Konstellationen mit Premierencharakter.
Für Kontinuität zum letztjährigen Programmfokus zwischen zeitgenössischer Dichtung und Musik
steht je Abend eine Text-Sound-Performance, in der schwedische Autoren gemeinsam mit Berliner Musikerinnen literarische Lesung und Klang in einer Einheit zusammen- führen.
Eigens für "Alter Schwede!" angefertigte Übersetzungen der schwedischen Texte ins Deutsche finden sich im Reader, der das Festival begleitet - ein schickes Taschenbuch zwischen literarischer Anthologie, Festival-Zine und Katalog.
Elektronmusikstudion Stockholm (EMS), eine der Pionierinstitutionen für elektronische Musik und Klangkunst in Europa, feiert in diesem Jahr ihren 50. Geburtstag – nicht zuletzt auch bei "Alter Schwede!" 2: Das diesjährige Programm wurde in Kooperation gestaltet, und am Mittwochabend vor dem Festival-Wochenende werden im ausland ausgewählte Aufnahmen aus dem EMS-Archiv zu hören sein. Im gegenüber 2013 deutlich elektronischer geprägten Konzertprogramm des Festivals treten viele Musiker auf, die bereits in den EMS-Studios komponiert und aufgenommen haben.
Das gilt auch für die von Haus aus intermedial arbeitenden schwedischen Künstlerinnen Erik Bünger, Leif Elggren und Imri Sandström, die in ihren thematisch angelegten Performances visuelle und tänzerische Elemente, Text/Sprache und Sound verflechten. Mit ihren Solo-Auftritten erweitern sie "Alter Schwede!" um einen Bereich von Einzelwerken, die genuin jenseits von Genregrenzen entstanden sind
***
After last year's enthusiastically received first edition, the festival format "Alter Schwede!" (a playful expression not easily translated to English...) is in 2014 dedicated to opening borders for the second time: Artists from Sweden and Berlin gather at ausland ("abroad") for an interdisciplinary programme between poetry, experimental music and performance art. Many of the appearances are premieres of newly formed duo-collaborations.
In three text-sound performances, Swedish poets work together with Berlin-based musicians, melting literary reading and sound into one. A special festival reader contains not only German translations of the texts, but also statements, festival-related material, images and artwork by the other artists.
Elektronmusikstudion Stockholm (EMS), one of the pioneering institutions for electronic composition and sound art in Europe, which celebrates its 50th anniversary this year, is cooperation partner for "Alter Schwede!" 2. Many of the musicians performing in the festival's
concert branch have recorded at EMS before.
The same applies to Erik Bünger, Leif Elggren and Imri Sandström. With their topic-based intermedia performances entwining media such as image, film, language/voice and movement, they'll add to the festival concept a new branch of genuinely transdisciplinary solo works.
On Wednesday before the festival weekend, an archive night offers the opportunity to listen to selected recordings from EMS' archive reaching back to the 1960s – focusing on text-sound compositions.
PROGRAMMÜBERBLICK
Mittwoch, 23. April
Elektronmusikstudion (EMS) Stockholm
Präsentation & Archivabend | > Details
Im Gespräch mit Festivalkurator Pär Thörn stellt EMS-Direktor Mats Lindström die Institution und ihre Geschichte seit 1964 vor. Vor allem aber gibt es ausgewählte Aufnahmen aus dem Studioarchiv zum gemeinsamen Anhören, mit Schwerpunkt auf älteren Text/Sound-Kompositionen. .
Eintritt frei - admission free - www.elektronmusikstudion.se
Freitag, 25. April | > Details
Konzert
Vinyl Terror and Horror: EMS Special
Text-Sound-Performance
Martin Högström & Mario De Vega
Performance
Leif Elggren: "Fear and Food (Don't eat too much !)"
Samstag, 26. April | > Details
Text-Sound-Performance
Linn Hansén & Liz Allbee
Performance
Imri Sandström: "(S)TONE TOLD"
Konzert
Dror Feiler & Jassem Hindi
DJ
Hanno Leichtmann
Sonntag, 27. April | > Details
Performance
Erik Bünger: "The girl who never was"
Text-Sound-Performance
Athena Farrokhzad & Christian Kesten
Konzert
Daniel M. Karlsson & Andrea Neumann
TICKETS
23. April - Eintritt frei
25.-27. April
Eintrittspreis: 8 € / 6 € (ermäßigt)
Festivalpass: 18 €
Kein Vorverkauf, keine Reservierung.
Im Eintritt inbegriffen ist ein Exemplar des Festival-Readers.
Künstlerische Leitung: Pär Thörn
Co-Kurator: Mats Lindström (EMS)
Produktionsleitung ausland: Tobias Herold
Übersetzungen aus dem Schwedischen: Gustav Sjöberg
Grafikdesign: Stefan Roigk
Technische Leitung: Ian Douglas-Moore
Presse: Jutta Büchter - buechter@ausland-berlin.de
Mit freundlicher Unterstützung von: EMS / Statens Musikverk, Schwedische Akademie, Bezirksamt Pankow, Swedish Arts Council, Schwedische Botschaft.
Medienpartner: Digital in Berlin, RBB Kulturradio, taz - die tageszeitung