Vinyl Terror / Högström & De Vega / Leif Elggren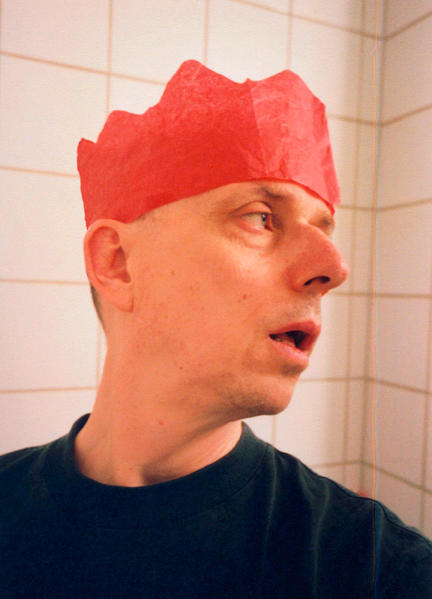 "Alter Schwede!"2
Festival für Dichtung – Musik – Performance
50 Jahre EMS Stockholm
-Erster Abend-
Geöffnet ab 20:00 Uhr, Beginn 21:00 Uhr
Eintritt (inkl. Festival-Reader): 8 € / 6 € (erm.) Festivalpass: 18 € | @facebook
Konzert
Vinyl Terror and Horror: EMS special
Das Duo Greta Christensen und Camilla Sørensen, bekannt für ihre punkig-avantgardistische Aneignung der DJ-Kultur mit wuchernden Konstruktionen von Plattenspielermotoren, Vinyls und Nadeln, wenden sich bei ihrem Festivalauftritt der Vergangenheit zu, um sie neu zusammenzusetzen: Statt Platten aus ihrem Fundus werden sie für ihr improvisatorisches Live-Set alte Archivaufnahmen aus dem Archiv des EMS verwenden und so die Klangästhetik vergangener Jahrzente als eklektisch-ikonoklastische De- und zugleich Rekonstruktion hörbar machen.
______Vinyl terrorists Greta Christensen and Camilla Sørensen, well known for their avantgardist-DIY-appropriation of DJ-culture, will for their set tonight use old records from the archive of EMS Stockholm, thus de- and recomposing music of the past in an act of eclectic iconoclasm.
www.vinylterrorandhorror.com
Text-Sound-Performance
Martin Högström & Mario De Vega: "Tyst Tysk"
With a request for silence. A slight shift of the tongue inside the oral cavity.
An act that in it self carries sound, to initiate a series of mutations in language.
In swedish the word for "silence" is "tyst"—whereas the word for "german" is "tysk".
Textgrundlage: Ein Auszug aus Martin Högströms Buch "Journaler", einem formal fragmentarisch wirkenden Lyrikband, der sich aus recherchiertem Material und Alltagsnotizen speist; metapoetische Bemerkungen finden sich neben Kommentaren zur aktuellen Politik. Die Gedichte beschreiben einen fiktiven Weg von einer Pariser Bibliothek zu einem Kirchennachbau in New Jersey, berühmt als die erste Kirche mit elektrischen Kerzen. Der Künstler und elektronische Musiker Mario de Vega sucht in seinen ganz unterschiedlichen Tätigkeitsbereichen oft Bruchstellen, Punkte der Verletztlichkeit und Beschädigung auf und lädt Zufall und Instabilität als Gegen- und Mitspieler in seine Aktionen ein. Beide verbindet ihr Interesse an Graphik und visueller Kunst ­und ihre Vorfreude auf ihren ersten gemeinsamen Auftritt –
______Based on Swedish writer Martin Högström's volume of poetry "Journaler" (Engl. "journals"), him and electronics-magician Mario de Vega will develop a text-sound-performance inbetween concert and reading, maybe also involving visual and performative elements!
chateaux-slot.blogspot.de | www.mariodevega.info
Performance
Leif Elggren: "Fear & Food" (Don't Eat Too Much !)
-Eine Kurzgeschichte in 18 Kapiteln auf der Grenze zwischen Leben und Tod-
Leif Elggren (Foto) ist seit den 1970er Jahren als Künstler aktiv – sein weitläufiges, vielgestaltiges Schaffen unter Disziplinen oder Oberbegriffe zu fassen, erscheint obsolet und würde seiner Haltung widersprechen. Bei "Alter Schwede!" 2 präsentiert er, zum ersten Mal in Berlin, seine Performance "Fear and Food": Elggren verkörpert darin Königin Christina und König Karl XII. von Schweden – sowie Emanuel Swedenborg (1688-1772), zunächst ein berühmter, rationaler Wissenschaftler und Naturtheoretiker, der später nach einer spirituellen Offenbarung ein theosophisches Religionssystem ausarbeitete und zum Propheten, Hell- und Geisterseher wurde, der eine schillernde Konzeption vom Leben nach dem Tod und seiner Transformation entwickelte. Weiterführende Literatur (Auswahl): Arcana coelestia (1749-1756 / Dt.: Himmlische Geheimnisse); De Coelo et eius mirabilibus, et de inferno (1758 / Dt.: Himmel und Hölle).
______Swedish transdiciplinary artist Leif Elggren, active since the 1970s, impersonates Queen Christina and King Charles XII of Sweden in his performance - as well as Emanuel Swedenborg, the 18th century rational scientist who, after an epiphanic experience, turned into a theosophic writer developing intriguing concepts about death and afterlife.
www.leifelggren.org
------------