Christian Kesten
Submitted by Anonymous on Wed, 2008-11-19 11:53.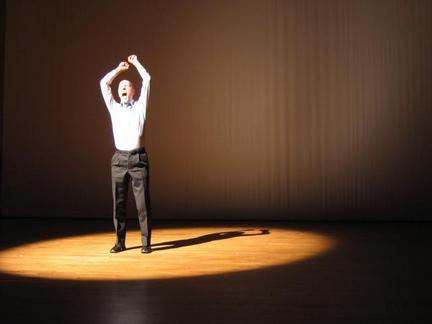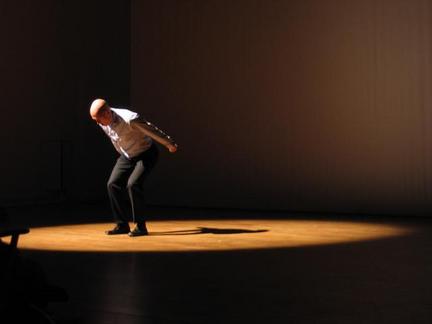 Christian Kesten
"Der Komponist Christian Kesten zum Beispiel liebt Bahnhöfe, wahrscheinlich auch das Wegfahren und Ankommen, das Wechselspiel von Bewegung und Stillstand, das man in jedem Zug, jeder U- und S-Bahn erleben kann. "Nordbahnhof", "Bahnhof Westend" oder "Fahren" heißen seine Kompositionen, darin läßt er die realen Geräusche, das Gerumpel und Getöse, mit Sprache und Musik zusammenfließen. ... Auch "parochial", ein Stück von Kesten, das 1998 in der Parochialkirche uraufgeführt wurde, ist solch ein dem Raum verbundenes Werk. ... ein sinnliches Verwirrspiel …. Zuerst mit Tönen, die sich im Zeitlupentempo nach oben schrauben und nach und nach den ganzen Raum füllen, wie ein Flaschengeist, der kaum dem Gefäß entwichen immer dicker und größer und bedrohlicher wird. Mal klingt das höhnisch, dann wieder eher ekstatisch, vieles ahnt man, statt es wirklich zu hören. Doch dann drängt sich die Sprache in den Vordergrund und klingt wie ein mit der falschen Geschwindigkeit abgespielter Dialog. Das ist aggressiv und unüberhörbar und ... ein beeindruckender Angriff auf die Sensoren des Publikums."
Anna-Bianca Krause, FAZ, 5.8.2000
Kurzbiographie
geb. 1966, seit 1987 Interpret Neuer Vokalmusik und Neuen Musiktheaters, als Solist oder im Ensemble "Die Maulwerker";
seit 1989 Aufführungen eigener Kompositionen und Performances, aufgeführt u.a. im Museum Moderner Kunst Wien, Museo Vostell Malpartida/E, Center for Contemporary Arts Glasgow, Diapason Soundart Gallery New York, California Institute of the Arts, Dangerous Curve Los Angeles, Q-O2 Brüssel, Labor Sonor/ Kule Berlin, Mossovet-Theater Moskau, Festival Escuta!/Rio de Janeiro, Festival moments musicaux/Schweiz, staatsbank Berlin;
seit 1992 Musiktheaterregie: er realisierte 2001 John Cages Song Books in vollständiger Fassung am Theater Bielefeld (Co-Regie), inszenierte u.a. Jürg Frey am Tesla/Podewil Berlin, Tom Johnson, Mauricio Kagel, Salvatore Sciarrino, Dieter Schnebel am Konzerthaus Berlin, sowie der Akademie der Künste Berlin; seine Inszenierungen wurden 2003 nach Huddersfield/GB und 2005 nach Athen eingeladen.
Als Vokalist spielte er Uraufführungen von Alessandro Bosetti, Axel Dörner, Jürg Frey, Michael Hirsch, Aleks Kolkowski, Chico Mello, Andrea Neumann, Makiko Nishikaze, Georg Nussbaumer, Josef Anton Riedl, Iris ter Schiphorst, Dieter Schnebel, Ernstalbrecht Stiebler u.v.a. Zusammenarbeit mit dem Kammerensemble Neue Musik, Ensemble Modern, Apartment House London, Berliner Symphonie Orchester u.a.
Studio- und Radioproduktionen mit Klangkünstlern und Hörspielregisseuren.
Konzerte in Tokyo, Moskau, Israel, Tschechien, Slowakei, Italien, Österreich, Schweiz, Frankreich, Spanien, Belgien, Luxemburg, den Niederlanden, Glasgow, New York, Los Angeles, San Francisco, Rio de Janeiro und in vielen deutschen Städten.