HIKASHU
Submitted by
threeem
on Sat, 2015-09-05 15:32.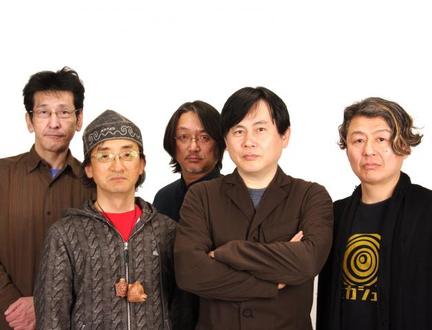 HIKASHU
Makigami Koichi is a renowned voice performer and multi-instrumentalist who has been playing around the world for years. He has performed with Derek Bailey, John Zorn, Ikue Mori, Lawren Newton, Fred Frith, Phil Minton, David Moss, Tom Cora, Jim O'Rourke,Bolot Bairyshev etc. He is one of the most representative Japanese performers of Tuvan throat singing, which is a tradition in Tuva Republic of the Russian Federation. Also, he is a co-producer and a main curator of an avant-garde jazz festival called Jazz Art Sengawa which has been held annually in Chofu-City, Tokyo since 2008.And From 1993, Makigami has been acting as organizer and prompter for the monthly Tokyo session of John Zorn's game piece COBRA.

Mita Freeman is a guitarist, composer and record producer. Besides being a prolific songwriter, he has been a distinctive practitioner of improvisation for years. He is the original member of Hikashu, and the other frontman of the band, along with Makigami. His own group, called Lu Inchi, was formed in 1977 and continues to this day.__

Sakaide Masami started working as professional musician while still attending college. He joined Hikashu in 1982. In 1988, he decided to move to Germany and settled in Dortmund while being in the band. During the period he experienced the collapse of Berlin Wall in person. Now residing in Tokyo, he has been active as a composer and sound designer for tv and theater.

Shimizu Kazuto is a composer, arranger, and multi-instrumentalist who plays piano, synthesizer, bass-clarinet and marimba. Started playing professionally in late 1970s, he has been working in genres like progressive rock, pop, jazz, and free music. Currently, besides being a sought-after session musician, he leads his own groups Arepos and the Precambrian Clarinet Quartet.

Sato Masaharu is a percussionist, voice performer, and composer. When he made his professional debut as a drummer of Bi Kyo Ran, the early Japanese progressive rock group, he was still in teens. In 2002, he recorded the first solo album called "Tappi" [the Flying Dragon] in France, which was co-produced with Bernard Paganotti (ex-Magma). Now, while engaging in various projects, he heads his own groups Massa, Bokura No Shizen No Bouken, and Kuro Yagi Shiro Yagi.
HIKASHU english page
http://hikashu-as.blogspot.jp
English text and Youtube links
http://hikashu.tumblr.com