Adachi & Tuerlinckx /// What a waste of beauty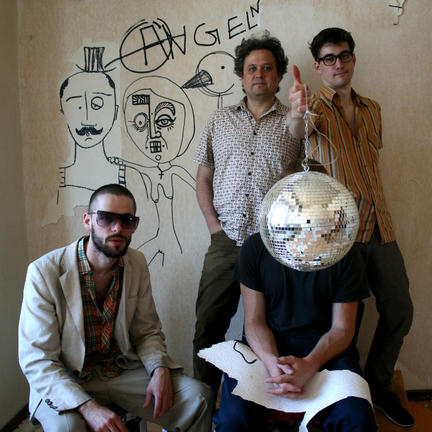 Duo Premiere! :
Anaïs Tuerlinckx (inside piano)
Tomomi Adachi (live-processing, voice, outside piano)
-
Julius Gabriel (sax)
Florian Walter (cl, sax)
Serge Corteyn (git)
Fabian Jung (drums, perc)
Doors 20:00h, start 20:30h.
In Anaïs Tuerlinckx' and Tomomi Adachi's premiere concert as a duo, 10 contact microphones pick up noises from Tuerlinckx' inside piano and objects. Adachi transforms them into thundering electronic sounds. Harsh and dynamic interactions among piano, voice and electronics.
Anaïs Tuerlinckx is a pianist from Brussels.
She moved to Berlin in 2008, interested in the local improvised music scene. Tending to a rather physical and expending way of playing, her performances are characterized by a decidedly harsh and noisy but at the same time elegiac, breezy and spacious sound.
Tomomi Adachi is a composer, voice performer, sound poet and instrument builder. Known for his versatile style, he has performed his own voice and electronics pieces, site-specific compositions, choir pieces for untrained musicians, improvised music and contemporary music in all over the world including Tate Modern, Maerzmusik, Centre Pompidou and Poesiefestival Berlin. CDs include the solo album from Tzadik, Omegapoint and naya records. He was a guest of the Artists-in-Berlin Program of the DAAD for 2012.
***
The Cologne/Ruhr-based avantgarde Quartet "What A Waste Of Beauty" was reformed in summer of 2012. The idea was to use a rather unconventional group setting as a basis to combine several more or less unrelated styles of contemporary music with each other. The band - consisting of four highly creative, impulsive and visionary young musicians and composers - developed a very distinctive and unique way of soundperformance. This depends on the autonomic, yet respectful understanding of communication and the question what a idiomatic "Jazz"-Quartet could sound like right here and now.
In this context, "What A Waste Of Beauty" had the possibility to perform its very own version of Jazz-, Rock'n'Roll-, Noise-, Singer/Songwriter-, Punk-, Contemporary-, Pop- and improvised music throughout Germany. ***
"What A Waste Of Beauty" besteht in der aktuellen Besetzung seit November 2012. Getrieben von Verschwendungslust versuchen das Quartett, einen Klangraum zu eröffnen, der sich am besten als experimentell und multidimensional beschreiben lässt. Möglich wird dies vor allem durch die ungewöhnliche Bandkonstellation, in der Synergie erzeugt wird, jeder Spieler aber auch für sich autonom verantwortlich bleibt. Die Mixtur aus Lautstärke, alltäglichem Wahnsinn und Free Jazz, um nur einige Merkmale zu nennen, erinnert auf den ersten Eindruck an Bands wie Einstürzende Neubauten oder King Crimson, angereichert mit einem Schuss Stockhausen.