Aidan Baker - Trio Not Trio (Album Release Show)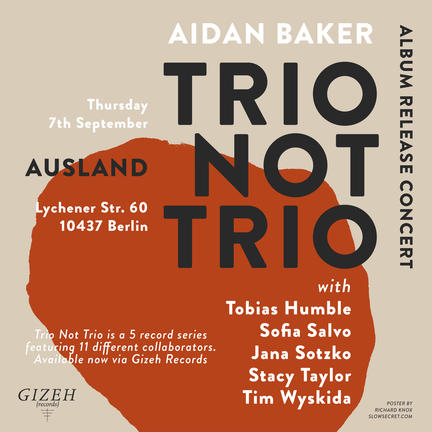 Canadian (but Berlin-based) guitarist Baker began the Trio Not Trio project in 2022 as a series of improvisational recording sessions wherein Baker played in person as a duo with another Berlin-based musician, then sent those recordings to an international musician to add a third part to complete the trio.
Baker chose this particular work method in a deliberate attempt to explore the different experiences and methodologies of in-person performance compared to long-distance, file-sharing collaborations. The resulting recordings from these five trios, eleven different musicians, none of whom had previously worked together, resulted in quite different albums. Each with unique sounds and characteristics, combining elements of jazz, ambient, electronic, rock, and avant-garde music, even as Baker's signature guitar sound binds them together.
The release show at ausland features Aidan Baker himself, as well as five of the Berlin-based artists who participated in the series:
Tobias Humble (UK - drums - of Lawns, Tricky, Gang of Four)
Sofia Salvo (AR - baritone saxophone - of Catarat)
Stacy Taylor (UK - vocals - aka Sarrf)
Tim Wyskida (US - drums - of Khanate, Blind Idiot God, Insect Ark)





Doors: 19:00
Shows: 20:00
Entry fee: €10 (Presale)/ €12 (Abendkasse)
Presale: https://goout.net/de/trio-not-trio-sofia-salvo+tobias-humble+more/szjuxvv/