Aisha Orazbayeva
Submitted by
Melodie
on Fri, 2016-12-09 13:42.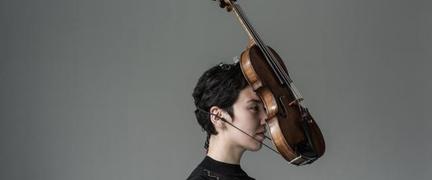 Aisha Orazbayeva is a Kazakh-born London-based violinist with an interest in filmmaking. She has released two critically acclaimed solo albums on Nonclassical and PRAH recordings featuring her own compositions, and has performed internationally in venues such as New York's Carnegie Hall. Recent releases include Bryn Harrison's Receiving the Approaching Memory with Mark Knoop on Another Timbre, vinyl EP Seeping Through with Tim Etchells on PRAH recordings and Scelsi's Duo vinyl EP for violin and cello on SN variations. Aisha regularly performs with ensembles Plus-Minus and Apartment House. Her music video for Leo Abrahams' Steal Time single was recently premiered on Clash Music magazine.
Aisha's third solo album Telemann Fantasias played using contemporary/extended violin techniques was released in November 2016.
"Orazbayeva has already made a name for herself working with composers from Royal Academy students at Gabriel Prokofiev's Nonclassical in Hoxton, to Johannes Maria Staud, and Pierre Boulez. And she played Sciarrino's Caprices with an ease and directness I haven't heard before. (…) Instead of gossamer wisps of sound, she made Sciarrino's music seem present, embodied, and exciting, somehow fleshing out Sciarrino's soundworld of shadows and spectres – and making the audience forget the incredible technical demands this music makes on any player."
The Guardian