Alessandra Eramo & Michael Barthel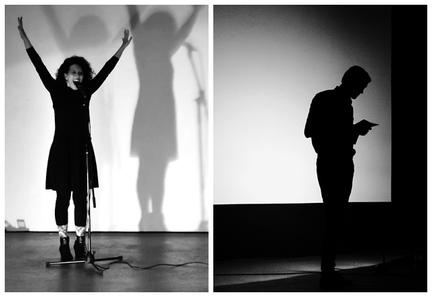 two text-sound-performances:
Alessandra Eramo
Dime niña donde vienes
(2016, Solo for voice, text and recorded sounds)
http://www.ezramo.com/
Michael Barthel
(Solo for voice, tapes & electronics)
http://www.recordingsforthesummer.de/vita.html
Doors 20:30, start 21:00 | @facebook

Dime niña donde vienes (en: tell me little girl where do you come from) by Alessandra Eramo is a live performance for recorded sounds of the voice of a newborn. Bodily sounds, or pre-words, or a kind of "proto-language" that belongs to everyone's memory.
Vocalist, sound artist and composer Alessandra Eramo explores the mistery and the beauty in human voice, and creates an intimate sound poetry piece, interlacing her own voice with recordings of slurping, tongue clicking, breathing, sighs, screams and other noises emitted by her daughter during her frst three months of life.
Alessandra Eramo (*1982 Taranto, South Italy) was trained in classical singing, piano and music theory since an early age, studied intermedial arts, experimental music and performance in Milan, Stuttgart and Venice.
Through performance, video, drawings and installation, she investigates the tension between vocality and writing, the phonetics, the physicality and trance-like states in singing. Her artistic production focuses on the juxtaposition between pleasure and disturbance, fragility and power, memory and the present, public space and intimacy.
Gaining international recognition, she has performed and exhibited widely in Europe, Turkey, USA and Canada, at a.o.: FLUSSI Media Arts Festival Avellino 2015, PACT Zollverein Essen, Museum FLUXUS+ Potsdam, Liverpool Biennial 2012, Roulette New York, Padiglione Italia nel Mondo - 54th Venice Biennale.
Collaborations with acclaimed composers, artists and performers include Tomomi Adachi, Maria Iorio & Raphaël Cuomo, Seiji Morimoto, Doug Van Nort, Marta Zapparoli. Alessandra Eramo is the co-founder of "Corvo Records – vinyl & sound art production," and a member of the group, "Errant Bodies Sound Art Space," in Berlin, where she lives and works.
---
In Michael Barthel's Arbeiten ist die Verortung Thema: Schutz, Zuflucht, Heimat - die Möglichkeiten die diesen Begriffen eingeschrieben sein wollen. In seinen Performances ist es die Sprache die diese Möglichkeiten umkreist, berührt und stockt. Deckung sucht und sich selbst überläßt - mit sich, ein Chor.
Michael Barthel, geboren 1977, aufgewachsen in Ost-Berlin, lebt seit 2002 in Leipzig.
Ab 1994 Beschäftigung mit Elektroakustischer und Experimenteller Musik. Seit 2008 ist die eigene Stimme ausschließliches Instrument für Konzerte und Aufnahmen.
Mit dem Label "Recordings for the Summer" gibt er seit mehr als einem Jahrzehnt
Kassetten-Editionen im Bereich der Elektroakustischen Musik und Lautpoesie heraus.
2009 gründete er den Kunstraum Barthel, in dem Installations- und Klangkunst
von internationalen Künstlern präsentiert wird.
http://www.recordingsforthesummer.de
Galerie: http://www.kunstraum-barthel.com/