Altered States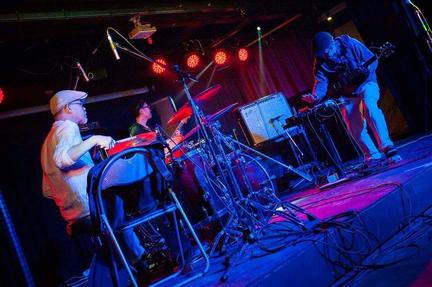 Altered States
Kazuhisa Uchihashi - guitar,electronics
Mitsuru Nasuno - bass
Yasuhiro Yoshigaki - drums
Doors: 8.30 pm
Concert start: 9.00 pm
There is some ambiguity surrounding Alter States inception, it is generally accepted sometime '89 - '90 in the underbelly of Osaka, Japan. A Power Trio [in every sense of the word] consisting of Nasuno Mitsuru [bass], Yoshigaki Yasuhiro [drums], Uchihashi Kazuhisa [guitar], established themselves as a Jazz trio. Deeming jazz a poor avenue for their harsh exploitations, they gravitated towards rock, still paying an indebted homage to their improvisational backgrounds. The Trio's sound displays a vast array of chopping and changing, touching upon, jazz-rock, psychedelic, noise rock, funk, neatly weaved around guitar driven Avant-prog.
During the '90s the band produced a string of hectic Avant-prog releases, both 'Mosaic' and 'Altered States 6' are commendable inductions for beginners, exhibiting their powers with in the studio. Displaying an aptitude for eccentric live performances [they are highly improv influenced after all], 'Lithuania and Estonia Live Featuring Otomo Yoshihide' features a spectacular live performance, unleashing the band in the natural environment. After a short hiatus [a 6 year gape between releases], busied by numerous other bands, Altered States produced Bluffs and Bluffs II ['05 and '06], immersing themselves within the perilous realms of improvisation.
All members of Altered States also played with Otomo Yoshihide's Ground Zero [now defunct].
Altered States is another cornerstone within the impressive Japanese Avant-prog scene, fans of Ground Zero, Ruins, Korekyojin, Massacre are bound to have a field day, while their records could also attract fans of King Crimsons more abstract styling.
==Adam (Black Velvet)==
https://www.progarchives.com/artist.asp?id=3106