Andrea Parkins/Mayas/Gratkowski/Buck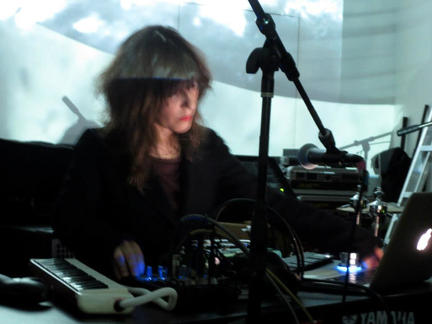 Andrea Parkins: electric accordion, objects, electronics
Magda Mayas: piano and clavinet
Frank Gratkowski: alto saxophone and clarinets
Tony Buck: Drums
--------------
Andrea Parkins is a composer, sound/installation artist and electroacoustic instrumentalist who engages with interactive electronics as compositional/performative process, and explores strategies related to Fluxus' ordered, ephemeral activities. An integral participant of the New York sound art and experimental music scene, and worldwide, she is acclaimed for her pioneering gestural/textural approach on her electronically-processed accordion and self-designed virtual sound-processing instrument. Described as a "sound-ist," of "protean," talent by The New York Times music critic Steve Smith, Parkins' laptop electronics and Fender-amped accordion create sonic fields of lush harmonics and sculpted electronic feedback, punctuated by moments of gap and rift.
Parkins records and performs as a solo artist and in collaboration with sonic innovators such as Otomo Yoshihide, Rova Saxophone Quartet, David Watson, John Butcher, and Nels Cline, among many others. Her sound works include multi-diffusion site-based installations featuring amplified objects; electroacoustic solo and ensemble pieces; electronic music compositions; and scores/sound design for dance and film. This work has been presented at the Whitney Museum of American Art, The Kitchen, Diapason, and Experimental Intermedia; Mexico City's, 1st International Sound Art Festival, NEXT in Bratislava, Cyberfest in St. Petersberg, and q-02 in Brussels. On an ongoing basis, Parkins develops her primary performance project, a series of interactive audio/visual works inspired by Rube Goldberg's circuitous machines.
Parkins' recordings have been published by Important Records, Atavistic, Henceforth and Creative Sources. Her work has received support from American Composers Forum, NYSCA, the French-American Cultural Exchange, Meet the Composer, Harvestworks Digital Media Arts Center, and Frei und Hanseastadt Hamburg Kulturbehoerde.