Angharad Davies
Submitted by
caribu
on Tue, 2011-03-08 10:17.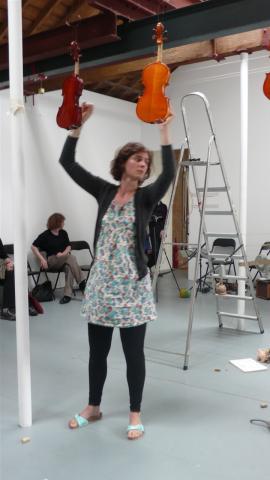 Angharad Davies is a Welsh violinist working with free-improvisation, compositions and performance.
Her approach to sound involves attentive listening and exploring beyond the sonic confines of her instrument, her classical training and performance expectation.
Much of her work involves collaboration. She has long standing duos with Tisha Mukarji, Dominic Lash and Lina Lapelyte and plays with Apartment House, Cranc, Common Objects, Richard Dawson's band and Skogen. She has been involved in projects with Tarek Atui, Tony Conrad, Laura Cannell, Jack McNamara, Eliane Radigue, Juliet Stephenson and J.G.Thirlwell.
She has released records on Absinth Records, Another Timbre, Potlatch and Confrontrecords.
Her album Ffansion | Fancies was voted in the top 12 albums for Radio 3's Late Junction.