Antonis Anissegos
Submitted by Anonymous on Tue, 2011-03-01 20:50.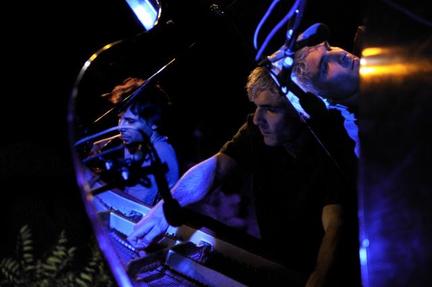 Antonis Anissegos (*1970, Thessaloniki, Greece) began studying the piano at the age of 7. In 1991, he received his Diploma in Piano Performance at State Conservatory of Thessaloniki (class of Eleni Xenariou). He continued piano (A. Laszlo) and composition (G. Orban) studies at the Ferenc Liszt Academy in Budapest, Hungary.
From 1992 to 1995, he studied composition (K. Schwertzig) in Vienna and in Cologne (K. Meyer) from 1995 to 1997. During this time he studied jazz piano with John Taylor.
He received his compotition diploma in 1997, and continued post-graduate studied (W.Zimmermann) at the Berlin Academy (UdK), where he received his degree in 2002.
In 2000, Mr. Anissegos won 1st price in the Neuköllner Oper Berlin Composition Competition, which uncluded a commission for a full length chamber opera with 15 performances ("Hundeherz", by M. Bulgakow).
In 1990-93 he collaborated with Manos Hadjidakis, who also offered him commissions for new compositions.
His solo-, chamber-, orchester- and theatermusic-compositions where performed across Europe, by such ensembles as Ensemble Modern, Ensemble Mosaik, Ensemble Cornucopia, Ensemble Piandaemonium, Ensemble DissonArt, State Orchester of Thessaloniki, Colour Orchester of Athens, Youth Orchester of Thüringen.
His Amoebas- and Lynx-recordings were awarded the "Studio Prize 2001 & 2005″ from the Berlin Senat. In autumn 2002 he was also awarded the "Composition 2002″ from the Berlin Senat for "Stirrings Still", a work for chamber ensemble and voice, based on the last text by S. Beckett. In march 2003, his band was invited for 2 concerts at the Tongyeong-International-Musicfestival in South Korea. In winter 2003/04 he worked together with the Berliner Theater-Ensemble Thikwa.
He was invited from the Kyoto Art Center in Japan together with the video-artist Erika Matsunami, for Workshop and the Performance "rasenjou no jikan / deflection" (April 2005). The duo OIO with Erika Matsunami lasted till September 2009. Performances in Berlin (Haus der Kulturen der Welt), Wuppertal, Venice, Seoul (Exis Festival).
Since 2006 he is performing together with the butoh-dancer Yuko Kaseki as duo KAYA. Many appearances in Germany, Switzerland and Greece. Their common dance-music piece "Umbra" in collaboration with the Theater Thikwa was presented in 2009 and will be repeated in 2010.
In 2008 began the collaboration with the dance project adlib (Katerina Papageorgiou aka Kat Vàlastur).
His current projects are:
Trio IAMA (w/ Jannis Anissegos, Maria Anissegou)
Lynx (w/ Kalle Kalima, Danny Schröteler, Samuel Rohrer)
Grix (w/ Floros Floridis, Yorgos Dimitriadis)
KAYA (w/ Yuko Kaseki)
ΣΩΜΑ (w/ Thymios Atzakas)
ddaA (w/ Oliver Steidle)
oneone (w/ Rainer Jancis)
Since the summer of 2006 he is holding an Improvisation Workshop at the Music Village in Agios Lavrentios in Greece.
He is member of the European Music Project & Ensemble Junge Musik and he works for many years together with the violinist Julius Schwahn.
Mr. Anissegos works regularly mostly throughout Europe as a pianist and composer. He appears mainly on concerts and recordings in the field of contemporary creative music. In the last years he performs often as an electronic musician.