Arnaud Rivière | Mario de Vega | and more...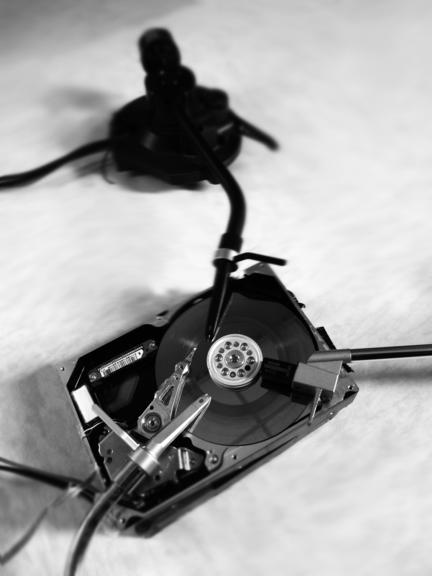 aktionen(1), akustische(1), algorithmus(1), artkillart(1), berlin(2), computer(1), elektronische(1), elektromagntischen(3), entartete(1), distortion(1), feedback(1), funk(8), installation(2), interaktive(2), interaktiven(1), klang(2), komposition(1), kunst(7), kunstwerk(1), label(1), mikrophon(1), paris(1), performance(1), physische(1), projekt(4), radio(7), rybn(1), scan(1), scanner(1), sound(1), systeme(1).
-
Yann Leguay (Brussels)
Brussels based sound artist Yann Leguay is a true media saboteur. He seeks to fold reality in on itself using basic means in the form of objects and videos or during installations and performances. His flagrant disregard for the accepted norms of audio behaviour appropriates industrial machinery for the playback of audio media: using an angle grinder to perform the live destruction of a microphone or to playback a hard-drive as a record at dizzying speed. His release activity is equally deviant, releasing a 7" single without a central hole and a record composed from recordings of vinyl being scratched by scalpel. His Phonotopy label proposes a conceptual approach to recording media and he also curates the DRIFT series on the Artkillart label which overlays several grooves onto a single record, causing randomised playback.
-
Arnaud Rivière (Paris)
http.http.http.http.free.fr/
Using a rudimentary electroacoustic device built around a repaired turntable (pick- up), a prepared-mixer and other primitive equipement that need manipulation - to make it brief -, Arnaud Rivière practises free improvisation, playing solo, in groups and through collaborations, since the late 90's.
-
Mario de Vega (Mexico City / Berlin)
Mario de Vega explores the potential of instability through semi-controlled accidents and its outcomes with a multiplicity of mediums that include: site-specific interventions, performance, photography, sculpture, and sound installation.
In the context of music, his work is the result of the intensification of acoustic space through the manipulation electronic devices, exposing unpredictable situations produced by fragile systems and the potential of its failure.
-
Victor Mazón (Lepzig / Berlin)
His artistic practice is defined between the experimentation and materialization of concepts as physical objects reacting to its native environment through (un)stable arrangements. Graduated on Lithography and Engraving by the University of Basque Country. His works has been perform or exhibited on museums, galleries, public TV/radio stations, billboards and urban screens across Europe, Africa, Russia, North America and Mexico.