Arnold Kasar / Catherine Lorent / solo piano night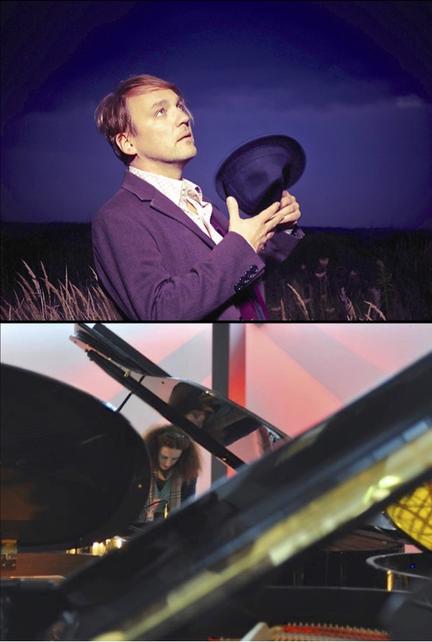 two solo piano sets:
Arnold Kasar
(Sonar Kollektiv )
kasarmusic.de
insidedevilskitchen.wordpress.com
Catherine Lorent
http://granhorno.com/visual/
https://soundcloud.com/gran-horno

Doors 20:00, Start 21:00 | @facebook

Our second Arnold Kasar special solo piano night,
and first time with Catherine Lorent, who'll both perform on auslands Ibach-baby grand!
Arnold Kasar [The work emerges unique with the rediscovery of old places, the old home – as I've now been living in Berlin for twenty years – and memorable times with family and old friends. I see these old places now in a new light and they have a much deeper meaning to me now: Ödland, Jungholz, Krai Waag Gumpe, Engelschwandt – and Devil's Kitchen. Places I've known since I was a child and now experience differently. I even called my studio 'Devil's Kitchen' after the beautiful secret waterfall hidden away in a Black Forest valley. Improvisation is always the base. From there songs grow and everything else blossoms. Sometimes the improvisation is the finished piece. I've been improvising for as long as I could play piano, in my own systems and patterns, but always 'in harmony'. When I moved to Berlin and started producing electronic music, the piano fell out of the central creative role and almost completely fell out of view. But the piano was always there in the background and has now pushed itself back as the focus of my work. These improvisations are very important part of my work. Sometimes they seem like the left over remains of a chemical reaction, but they're far too precious to simply throw away and have become very dear to me. So I have compiled a few of them for my album "INSIDE DEVILS KITCHEN".]
GRAN HORNO (Spanish: the big stove) is the multi-instrumental solo project of Catherine Lorent, in Munich born Luxembourger. She studied painting, history and art history in the Sorbonne, Paris, and did a doctorate in history and art history. Her oeuvre consists of three sphreres: visual art, music and performance. In 2013 she represented Luxembourg at the 55thBiennale di Venezia. Her works deals with the baroque draft of the whole work of art, however, is considered also as a representative of the neo-pop.
Gran Hornos last album Hymni 2015 appeared on a vinyl with eight piano pieces from the past decade. It was recorded, mixed, produced and mastered in Berlin in the sound studios of Martin J. Fiedler
Lorent bewitches the audience with her unusual multi-octave sub - Alto - voice that, with her unobtrusive - sexy dark timbre, invites the listeners to dreamy low-altitude flights -Complex polyphonic layers in the mountain pastures of the Alts.
During her solo exhibition D-A-T-E decicatio artis turbantis Eternalis, Lorent, living in Berlin since 2007 living wished from the Abbaye de Neumunster Luxembourg a phonogram on 12' vinyl instead of another book that disappears silently beside her Venice Biennale catalog on the shelves.
As a special edition with cover artwork and ready to be downloaded with code to the web site of Gran Horno: www.granhorno.com.
Discography
Hymni 2015
Songs of Hyde&Seek 2011
Resurrection Baby 2007-2008