Felicie Bazelaire//Yuri Leiderman//Magda Mayas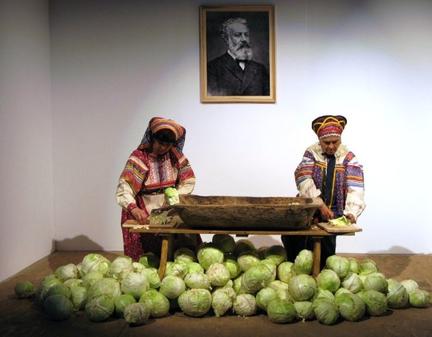 Felicie Bazelaire (FR) - "The Misfit" for solo cello. An improvisation on a particular tune. A strange monochromatisme that moves throughout different destructured drones.
Yuri Leiderman (UA/DE) - avant-lecture and film - KEFIR GRAINS ARE GOING ONTO THE FLIGHT (film by Leiderman/Andrei Silvestrov, Moscow, 2003, 24 mns, Russian with English subtitles)
Magda Mayas (DE) - solo piano
20h doors, 20h30 start
///
Felicie Bazelaire is a cello and double bass player based in Paris. She shares her time in different ways : between concerts and performances, studying pedagogy through a Masters degree at the Conservatoire National Supérieur de Paris, and teaching at the Orsay and Auxerre's conservatory. She is interested in classical music (chamber music) and contemporary music with her solo projects (improvisation, compositions, performances/actions...), the Hodos ensemble and the ONCEIM (a french improvised large orchestra led by Frederic Blondy). She is curious about the link between musicians, composers, improvisers and the actual music.
///
Yuri Leiderman, artist and writer, was born in 1963 in Odessa, Ukraine. Since 1982 he has been a participant in apartment exhibitions in Moscow and Odessa. He is one of the founding members of the "Medical Hermeneutics" group (together with Sergei Anufriev and Pavel Pepperstein) in 1987, and left the group in 1990. He has participated in numerous international exhibitions of contemporary art, including biennales in Venice (1993, 2002), Istanbul (1992), Shanghai (2004), Manifesta (Rotterdam, 1996) etc. He is the author of several books of essays, prose and poetry and was awarded the Andrei Belyi Russian Literature Prize in 2005. Since 2007 he has been working together with Andrei Silvestrov on the film project "Birmingham Ornament". The film "Birmingham Ornament 2" won a special prize from the Roma Film Festival in (2013). He currently resides in Berlin.
///
Magda Mayas is a pianist living in Berlin. Developing a vocabulary utilizing both the inside as well as the exterior parts of the piano, using preparations and objects, she explores textural, linear and fast moving sound collage.
Alongside the piano, Mayas has recently been performing on a Clavinet/Pianet, an electric piano from the 60s with strings and metal chimes, where she engages with noise and more visceral sound material, equally extending the instrumental sound palette using extended techniques and devices.
Mayas performs internationally solo and in collaboration with a large number of musicians and composers.
Current projects are "Spill", a duo with drummer Tony Buck, a duo with Anthea Caddy (cello), a duo with Christine Abdelnour (sax) and "Great Waitress",a trio with Monika Brooks (acc) and Laura Altman (cl).
Magda Mayas has performed and toured in Europe, the USA, Australia and Lebanon and collaborated with many leading figures in improvisation and composers such as John Butcher, Peter Evans, Annette Krebs, Andy Moor, Ikue Mori, Phill Niblock, Andrea Neumann and Axel Dörner.