Berangere Maximin: Lovesick /// + Magda Mayas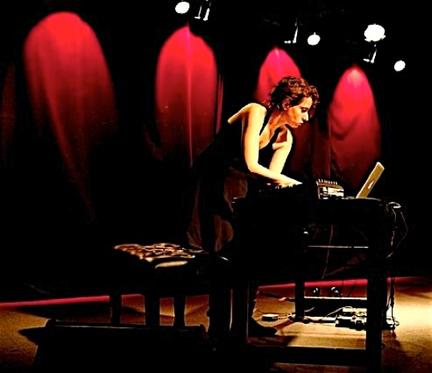 Berangere Maximin presents her new programme/album 'Lovesick' (sound objects, microphonics, digital chimeras, voice) ///
2nd set:
Duo - Berangere Maximin (laptop, voice, sound objects) + Magda Mayas (prepared piano)
Doors 20:30h, Start 21:30h
Berangere Maximin is an electroacoustic music composer and performer, based in Paris. She was born on the remote French colonial Island of Reunion in the Indian Ocean where she resided until the age of fifteen.
Working out of her own Home Sweet Home Studio, she shoots sounds in a dark silent room, records soundscapes and acoustic sounds, performs on a variety of objects, plays with sampling, digital effects and sings. "She creates landscapes that pull you in and hold your attention with a keen sense of detail and a subtle sense of surprise. One of the most personal and passionate new voices in electroacoustic music" - John Zorn
Working with a wide range of musicians including Fred Frith, Rhys Chatham, Fennez, Chuck Bettis or Richard Pinhas she has released 'Tant Que Les Heures Passent' on Tzadik (USA, 2008), 'No One Is An Island' on Sub Rosa (Belgium, 2012) and 'Infinitesimal' on Sub Rosa (Belgium, 2013).
Magda Mayas is a pianist living in Berlin.
Developing a vocabulary utilizing both the inside as well as the exterior parts of the piano, using preparations and objects, she explores textural, linear and fast moving sound collage.
Alongside the piano, Mayas has been performing on a Clavinet/Pianet, an electric piano from the 60s with strings and metal chimes, where she engages with noise and more visceral sound material, equally extending the instrumental sound palette using extended techniques and devices.
Magda Mayas has performed and toured in Europe, the USA, Australia and Lebanon and collaborated with many leading figures in improvisation and composers such as John Butcher, Peter Evans, Annette Krebs, Phill Niblock, Andrea Neumann, Axel Dörner, Thomas Lehn, Tristan Honsinger and Tony Buck.