BIZZY BOSSY presents WAY OF THE DUB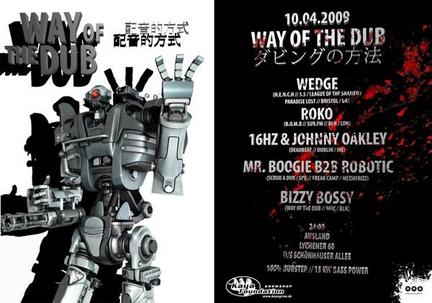 BIZZY BOSSY presents WAY OF THE DUB:
WEDGE (H.E.N.C.H // 3.5 / PARADISE LOST / LEAGUE OF THE SHAMED // BRISTOL / UK)
ROKO (B.O.M.B // SUB.FM // BLN / LDN)
16HZ & JOHNNY OAKLEY (DEADBEAT // DUBLIN / IRE)
MR. BOOGIE (SCRUB A DUB / SPB / SUBMODULATION // POTSDAM)

ROBOTIC (FREAK CAMP / MEZMERIZE // BLN)
BIZZY BOSSY (WAY OF THE DUB // MUC / BLN)
++++++++
Eintritt: 8 Euro
15 KW BASS powered by HEAD PA
++++++++
WAY OF THE DUB ist die neue Partyreihe von BIZZY BOSSY. Dubstep in all seinen Facetten soll hier repräsentiert werden. Von dunklen Halfstep-Wobblern, über straighte Technohybride, zu Neo-2step, Wonky und Roots . Ein Stil, viele Spielarten.
++++++++
DJ WEDGE machte zuerst auf sich aufmerksam mit düsterem athmosphärischem Halfstep, später hat er sein Spektrum um technoide und dubbige Stücke erweitert. Als Teil der H.E.N.C.H Crew, neben ihm bestehend aus Jakes, Headhunter, Komonazmuk & Whiteboi, ist er mitverantwortlich dafür, dass Bristol zur zweiten Dubstep-Hochburg nach London aufsteigen konnte. In seiner wöchentlichen Show auf Sub.FM präsentiert er die frischesten Dubplates mit Schwerpunkt auf Bristol, aber auch neue Tunes aus London und dem Rest der Welt. Er hat gerade sein eigenes Label gestartet, If Symptoms Persist, auf dem er Dubstep affine Electronica veröffentlichen wird. Erste Releases kommen von Bass Clef, Appleblim, Gatekeeper, B-Lam und Atki2. Wedge ist das zweite mal in Berlin; bei seinem Auftritt im September 2007 hat er sich mit seiner dynamischen Show viele Freunde gemacht. Auch diesmal erwartet uns ein weit gespannter Bogen von darkem Dubstep über 4x4 zu Wonky und Electronica. Nicht verpassen!
*If Symptoms Persist* (www.ifsymptomspersist.co.uk)
++++++++
WEDGE http://myspace.com/wedgedj
ROKO http://myspace.com/djrokotiili
16HZ & JOHNNY OAKLEY http://www.myspace.com/16hertz
MR. BOOGIE http://myspace.com/basshoppazz
ROBOTIC http://robotfreq.com
BIZZY BOSSY http://myspace.com/bizzybossy
++++++++