Bomb Shop showcase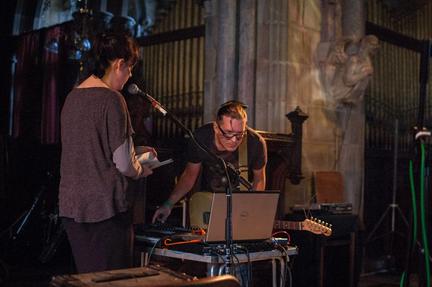 Ambrosia(@)
James Birchall (guitar/electronics)
Sarah Faraday (synths/vocals/amplified objects)
Ambrosia(@)'s back story is complicated. James and Sarah also run Fuse Art Space in Bradford, an autonomous cultural space which has hosted the likes of Helm, Karen Gwyer and Chris Watson over the last 18 months. Birchall also produces under the Rough Fields pseudonym. The duo first emerged in 2010 with a series of drone tapes packaged in ZX81 cases with defaced inlays, each one equally unique, puerile and mildly offensive. Then came the intense Hysteria Siberiana, with its sheet noise pressure, monolithic bass and enormous harmonic structures.
On stage, Ambrosia(@) is a melding of guitar washes, bass attacks, noise and fantasmic vocals, blending heavy drone with clipped motorik beats and bass.
Voyou
Sarah Faraday (Banjo, bass guitar, electronics)
Voyou is the solo project of Sarah Faraday, combining haunting vocals and deep bass guitar rumbles with epic processed banjo feedback loops. Her debut cassette on Bomb Shop presents three long-form studies in a fresh, textural approach to manipulating this traditional instrument, taking minimalistic fingerpicking styles and transforming them into ethereal washes of reverb-drenched sound, the attacks removed, leaving only sonorous drones.
Rough Fields
James Birchall (Field recordings, processing)
Rough Fields is the solo project of UK-based producer James Birchall. Began in 2011 with a series of epic lo-fi cassettes on the Bomb Shop label, the Rough Fields project progressed through expansive song forms on debut album Edge of the Firelight, and surreal, dreamy pop on the High Time EP. Constructed from a wide array of stringed instruments, found objects and home-made soundmaking devices, his early work brings together influences from drone, UK techno and minimalism to form unique works. In 2013, Birchall collaborated with Steve Reich to release the first ever solo version of "Music For 18 Musicians".
The current Rough Fields live show stems from the 2013 album "Wessenden Suite" - a long-form drone piece constructed from layered field recordings. The performance involves recording environmental sound around the venue throughout the day of the performance, and then manipulating those recordings live using Max, Ableton and a series of custom built resonant filters to achieve densely layered textures of blissful, harmonic sound. Rough Fields has recently played with Steve Hauschildt (Emeralds), Karen Gwyer, Philip Jeck, Cooly G, Actress, Gnod and James Blackshaw; he also supported Manuel Gottsching at the UK premiere of E2 - E4 in October 2015.