Brabrabra /// The Shna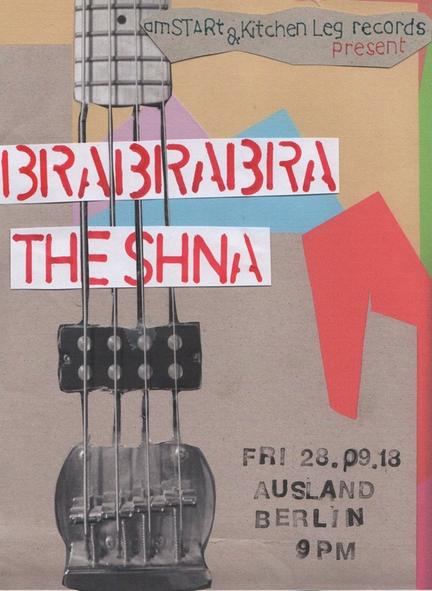 Kitchen Leg Records & amSTARt präsentieren:
BRABRABRA | live
www.brabrabratheband.tumblr.com
THE SHNA | live
www.theshna.bandcamp.com
plus DJs:
FS BLummbastic //// Sibsisibsi
Doors 20:00, concerts 21:00 | @facebook
Tickets - Vorverkauf:
www.ticketbu.de oder www.koka36.de
Abendkasse: 10 EUR
Brabrabra (Susanna, Saiko and Federica) spielen in Bass-Schlagzeug-Orgel Dreierbesetzung charmantesten Lo-Fi Pop in Tradition von Bands wie Raincoats oder den Marine Girls. Ihre Synthese aus Schrägheit und Melodie, Intensität und Verspieltheit gibt Pop wieder ein smpathisches Gesicht. Das von ihnen betriebene Tape Label Kitchen Leg Records besticht durch seine stilistische Homogenität und eine sehr gute Künstlerauswahl.
"Wer der Meinung ist, dass die alten Riot Grrl-Tage von Babes in Toyland und ähnlichen Combos längst mal wieder neu anbrechen sollten,, ist bei dem mit Schlagzeug, Bass und Mikro bewaffneten Duo mit dem einprägsamen Namen The Shna an der richtigen Adresse. Auf ihrem "Fairytape" reihen sich eine knappe halbe Stunde lang rauschende Funkenflüge, noisiges Knarren und Rumpeln und wechselseitiger, aber immer abenteuerlustiger Gesang aneinander. Mut zu Lofi ist reichlich vorhanden, und am stärksten sind die beiden gerade dann, wenn sie sich selbst nicht allzu ernst nehmen. Also eigentlich immer." (African Paper).
BERLINTOUCH no.7 - gefördert durch die Musicboard Berlin GmbH