Brutter / SPILL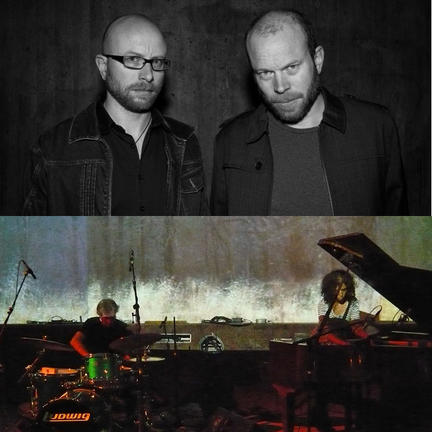 Brutter
Christian Wallumrød - Drum Machine / Keyboard
Frederik Wallumrød - Schlagzeug mit Elektronik
The duo Brutter consists of Christian and Fredrik Wallumrød, a team with long experience from various parts of the Norwegian music scene. Fredrik (drums/electronics) is known primarily as a rock and metal musician with bands such as Span, El Caco and Dog Almighty. He also plays with Jarle Bernhoft and Susanna.
Christian Wallumrød (drum machines, synth, electronics) has made a name for himself with his own ensemble among others, and with the quartet Dans Les Arbres, which has been nominated for this year's Nordic Council Music Prize. Both bands have made a number of recordings with ECM Records, and have toured all over the world. Earlier this year Christian released his solo piano album "Pianokammer" on the Hubro label, garnering excellent reviews. He is most often associated with acoustic music, but has also worked a great deal with improvised electronic music in, for example, the trios Merriwinkle and Close Erase and in projects together with Audun Kleive. As a brief digression, it can be noted that the German-Chilean electronic music producer Ricardo Villalobos used Wallumrød's music as a point of departure for five of the tracks on the remix record Re:ECM in 2011.
Brutter's music is demanding, clear-cut and well defined. At a point beyond melody and harmony they have dug out a totally distinctive, fascinating musical landscape in which colliding rhythms and pulsating beats play the main role.
http://hubromusic.com/brutter-limited-edition-lp/
SPILL
Magda Mayas - Klavier
Tony Buck - drums
Spill is the Berlin-based duo of Magda Mayas on piano and clavinet and Tony Buck on drums/percussion, formed in 2003. They released 3 albums so far and are working on the 4th.Tony and Magda have been playing all over Europe, the USA, Mexico, Singapore, Australia and Lebanon.
doors 20:00 / beginn 21:00