Carl Stone + Miki Yui: Realistic Monk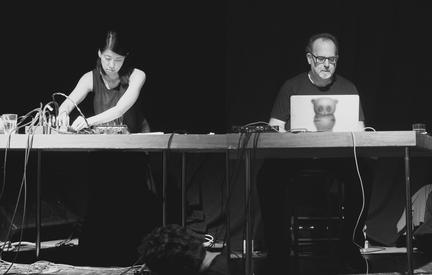 duo concert:
REALISTIC MONK
Carl Stone - electronics | www.rlsto.net
Miki Yui - electronics | www.mikiyui.com
+ two solo sets by Carl & Miki before the duo!
realistic monk live in Milano (video)
Doors 20:30, concerts 21:00 | 8 EUR
@facebook

Realistic Monk – the title a simple anagram of the names of its members – is a new performance project from Carl Stone in collaboration with artist/composer Miki Yui. The unit concentrates on smaller sounds, sometimes at the edge of perception, encouraging concentrated listening as they create deep soundscapes that emerge out of voices, noises, field recordings and acoustic feedback.

Realistic Monk ist ein neues Musik-Projekt des Elektronik Pioniers Carl Stone (*1953 USA) und der Künstlerin und Musikerin Miki Yui (*1971 JP). Beide arbeiten mit Samples, Fieldrecordings und elektronischen Sounds. Als Duo schaffen sie aus Stimmen, Geräuschen und Feedbacks organisch, minimalistische Klanglandschaften und öffnen so Räume für einen akustischen Verwandlungsprozess.