CC N°1 - The Biotech Orchestra + The Wedding Band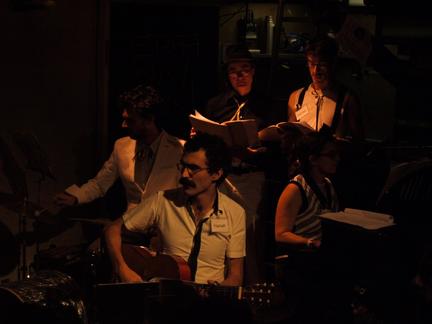 Biotech Orchestra in Concert: Lab und Workshop-Präsentation
after one week of breeding and tinkering the Biotec Orchestra will be presented to the public - as an installation as well as an orchestra playing a composition which was conceived during the week.
After the concert we welcome our special guest
The Wedding Band


In a room full of plants The Wedding Band plays music that thrives with love to community and creativity from outside the closet. The Wedding Band plays on known and unknown instruments. Keeping close to the tradition of light opera the chords embrace each other like members of a family feud. Rhythm meets rhythm and goy meets birl. And in the end maybe, maybe a bouquet will be gathered out of the plants and thrown into the audience. The person lucky enough to catch it will have to get married or divorced in the showing of the yet unwritten fourth act of the operetta. 
Who comes will know!
Carola Caggiano (cello), Martin Ertl (synth, guitar), Ulrike Ertl (guitart, ukulele), Eduard Mont de Palol (guitart), Conrad Noack (horn), Johanna Olausson (double bass), Nathalie Hör-Ponneau (cello), Ruth Waldeyer (drums), Itay Zfira (percussion, guitar)
SissiFM goes raudio aasland - reboot.fm in exile @SissiFM!
SissiFM is ausland's homemade CC No.1-festival radio, reflecting most of the festival's live events & programme taking place at ausland into the www via stream from the venue's very own recording booth.
On Friday Dec 14th, opening the second weekend of the festival, we'll corrupt the colleagues from reboot.fm, Berlin's one and only free cultural radio - which monthly hosts raudio aasland, the venues' explicit radio branch, since 2005, to leave their luxurious studio at Haus der Kulturen der Welt, take their equipment with them and take a seat at ausland's transmission booth above the stage area in order to broadcast the concerts of biotech orchestra and the wedding band within touching distance with the artists and audience - listen to the such rebooted SissiFM on your radio on MhZ 88,4 in Berlin, 90,7 MhZ in Potsdam or via the www-stream on reboot.fm!
The broadcast will be framed by a special programme of discussions, interviews and features - check here for details in December!