Chambers /// Badhammer /// Elecdrones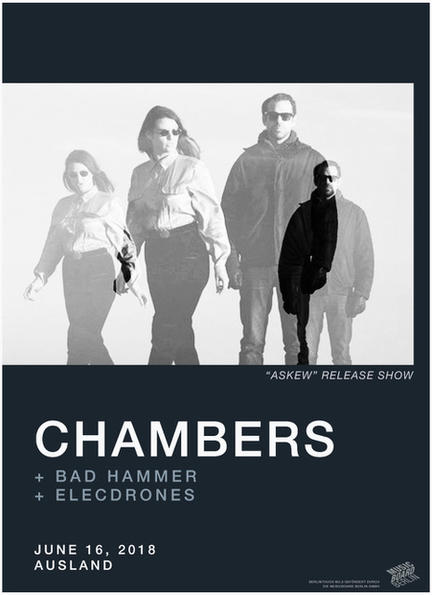 amSTARt presents: BerlinTouch No.5
CHAMBERS live
"Askew" - record release show
youtube.com
soundcloud.com
BAD HAMMER live
youtube.com
ELECDRONES live
youtube.com
Doors 20:00, concerts 21:00 | @facebook
Tickets - Abendkasse: 10 EUR
Tickets - Vorverkauf: koka36 oder ticketbu.de
CHAMBERS
Angela Chambers und Jason Letkiewicz haben in Baltimore und Berlin ganz nebenbei den aufregendsten, unterkühltesten und betörendsten Gitarrenschraddel mit gerade so viel wie nötigen Zutaten angereichert, um von Sekunde Null an den Raum auf eine andere Ebene zu heben. Mäandern, schreiten, fallen, loslassen - das alles vollziehen sie in einer Ruhe und Beständigkeit, die einem den Atem raubt. In ihrem neuen Werk "Askew" kann man sich verlieren, finden, und niemals aufhören. Augen zu, mit den Köpfen nicken, leise seufzen.
"Askew" is the new album from Angela Chambers (Dust, AC Meadows) and Jason Letkiewicz (Alan Hurst, Steve Summers, L.I.E.S Records, Innergaze), in collaboration with Cameron Findlay (Crystal Castles, Kontravoid) on drums. Written and recorded in Berlin and Toronto.
Mixed in Chicago and DC.
BAD HAMMER
Phil Collins verlorene Conga-Tracks als brüchige Stütze für die verlorensten aller Gitarrenlinien und herzbrechend traurigsten Synthesizer, die man je auf einem Kingsize-Doppelbett
mit Fernblick über Tokyo beweinen konnte. Und wenn sich das Gesichtsfeld langsam verengt, auf diesen trüben Punkt am Ende des Horizonts, setzt die Stimme ein, und die Uhren hören auf zu schlagen.
Bad Hammer wissen verschwörerisch genau, wie man die Zeit anhält und mit Honig füllt. Und sie zögern nicht, es ohne Unterlass immer wieder zu tun.
ELECDRONES
Wenn Stoner Rock Drum Machines lieben würde, und wüsste wie man Krautrock und Bauhaus schreibt, wären Elecdrones hier Vorreiter. Aber das interessiert sie sowieso nicht. Obwohl sie mit dir Sachen machen können, die man sonst nur bei den Doors und Joy Division erlauben würde, widmen sie sich einfachsten Strukturen, dem Zufall, der Simplizität. Und schaffen den Soundtrack zu Jim Morrisons weisser Villa in der Bauhaus-Planstadt deiner kühlsten Träume.
*
Berlintouch No. 5 - gefördert durch die Musicboard Berlin GmbH