Christina Vantzou & Francesco Donadello / Ellicist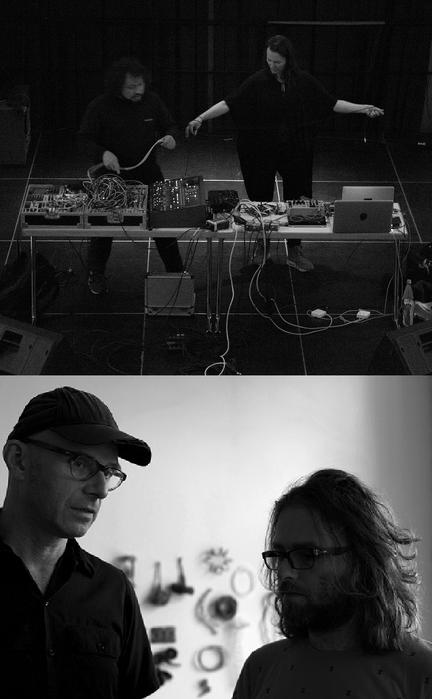 Rrose Sélavy & Miasmah present:
Christina Vantzou & Francesco Donadello live
www.christinavantzou.com
soundcloud.com/christinavantzou
www.vox-ton.com
Ellicist live
www.tadklimp.com
facebook.com/TherealDriftmachine
Doors 20:00, concerts 21:00 | 9 € | @facebook
The long going Rrose Sélavy-series initiated by Miasmah in collaboration with several other local and visiting labels, has been setting up shows and dj events under the rader since 2011. This evening at ausland will be a possibility to see two improvising duo acts that either rarely or never before performed live. Although based mostly on electronic instrumentation, the sounds this evening will border on the organic, atmospheric and surreal. Christina Vantzou, residing in Brussels and known amongst others for her albums on Kranky, stops by Berlin to play a duo set with sound magician and VOX-TON studio co-director Francesco Donadello in only their 3rd performance together. On the other side, Ellicist, a new duo by Driftmachine´s Florian Zimmer (DE) together with sound experimentalist and instrument builder Thomas Chousos (GR) perform live for the first time this evening.
Having met in Bologna on a Dead Texan tour in 2005, Francesco Donadello (IT) and Christina Vantzou (US) became fast friends from a similar musical universe. Their collaboration developed many years later in Berlin, and largely through a likemindedness and shared sense of intrigue with machines and sound. In 2016, an invitation to perform at A Happening brought about their first public collaboration. Their agreed upon approach to event, the music, and the collaboration itself was spontaneous. Form was secondary. So far their collaboration is a performance based one. They performed at the 2017 edition of The Long Now and their 3rd performance tonight at ausland will be a continuation of this Berlin series.
The Berlin based electronic duo Ellicist is a new project from Thomas Chousos (GR) and Florian Zimmer (DE). They are using software programming and modular synthesizers as their main tools for improvisation and composition. In this performance they are focusing on using archive sonic material from different urban spaces and times as their main element for improvisation.