Christine Abdelnour
Submitted by
caribu
on Fri, 2009-03-06 16:54.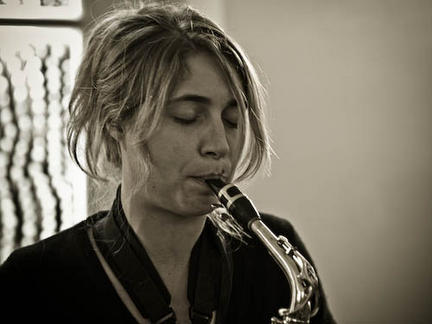 Christine Abdelnour (Sehnaoui)
Born in 1978, Christine lives in France, but is of Lebanese origin. After discovering improvised music in 1997 she began a process of self-taught study and sound experimentation using the alto saxophone.
She has developed a unique personal language, producing sounds that are close to those of electroacoustic music, but on a purely acoustic instrument.
She approaches sound as a malleable material, rich in concrete textures, which combine breath, silence and countless acoustic distortions. She has developed extended techniques and complex patterns of sound production, exploring the microtonal aspects of the saxophone and its high-pitched tones. She employs subtle tonguing techniques, unpitched breaths, spittle-flecked growls, biting, slicing notes and breathy echoing sounds from the bell of her horn. Far from any narrative effects, her music addresses the relation between listening and concepts of perception, time and space.
Solo Artist and involved in international tours with Ryan Kernoa, Andy Moor, Magda Mayas, Pascal Battus, Andrea Neumann, Bonnie Jones, Raymond Strid, Sven- Ake Johansson and many more. She has released more than ten cds and has collaborated with visual art, dance, literature, poetry, as well as projects with noise, electronics, rock or free jazz.