Companion Songs (RELEASE SHOW) + H.C. Behrendtsen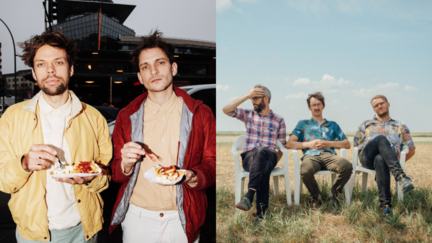 Doors 20 Uhr | Start 21 Uhr
VVK € 12,- (zzgl. Geb.) @ KoKa36 & goout.net AK € 15,-
Companion Songs (Marco Mlynek & Max Andrzejewski) – Paper Parachute (RELEASE SHOW)
akkerbouw.bandcamp.com/album/paper-parachute
linktr.ee/companion_songs
H.C. Behrendtsen – experimental Math from Leipzig
hcbehrendtsen.bandcamp.com/
youtube.com/@h.c.behrendtsen2337
+++ scroll down for english +++
Nach vier tollen amSTARt-Abenden im ausland im Jahr 2023 folgt nun der fünfte und vorletzte Streich: Companion Songs (Marco Mlynek & Max Andrzejewski), ein schönes Duo mit der übermässig guten Debut-Platte Paper Parachute. Ebenfalls mit dabei ist die hochgelobte experimental Math-Band H.C. Behrendtsen aus der neuen Musikhauptstadt Leipzig, formerly EastGermany.
Companion Songs (Marco Mlynek & Max Andrzejewski)
Zehn Jahre liegen zwischen dem letzten gemeinsamen Projekt und den ersten Voice Memos, aus denen 2020 Companion Songs entstanden ist. Das Duo verbindet eine lange Freundschaft aus Teenage-Tagen, die erste Gitarren-Band und Home-Recordings im Probekeller. Auch wenn die musikalischen Wege danach erstmal unabhängig verliefen: die Freundschaft blieb und neue Projekte, Konzerte und natürlich immer wieder Lieblingsalben wurden unterwegs geteilt. Die langen Jahre Pause haben der gemeinsamen Sprache musikalisch nichts genommen. Alle Richtungen, in die sich beide über Jahre künstlerisch gestreckt haben, finden ihren Platz. Ihr Sound ist warm, roh und holzig. In ihren Stücken spannen sie einen Bogen von treibenden Instrumentals und eigensinnigen Folksongs zu Momenten tiefer Ruhe. Ehrliche Musik, durchzogen von Energieausbrüchen. Zusammengehalten von einfachen Melodien und repetitiven Zwischenwelten.
In der Zweier-Besetzung liegt alles offen. Durch alle smarten Verzweigungen und Twists zieht sich auf ihrem Debut Album Paper Parachute eine herzvolle Suche nach Erdung. Die Texte liefern Gedankenströme übers Loslassen, raus aus Kopf- und Lebensschleifen. Aufgehobensein und Zwischenräume, in denen wir unsere Alltagsfallschirme bauen.
H.C. Behrendtsen
H., C. und B. aus L. sehen aus wie drei Physiker in Hawaiihemden, die deinen Partykeller okkupiert haben. Ihr erstes Album klingt, als hätten sie es auch dort aufgenommen. Unter Laborbedingungen natürlich.
Wo unverschämte Surfrock Anleihen selbst die stabilste Gitarrenwand brechen, bringt eine Prise 90er-Rock-Nostalgie die nötige Wärme in das glasklare Math Rock Gerüst. Ein Sound, der ohne Weiteres den Spagat zwischen Akademie und AJZ schafft, und in dem sich Jazzer und Hardcore Kids gleichermaßen zuhause fühlen dürfen. (Stefan Ibrahim)
+++ english +++
After four great amSTART-evenings at ausland in 2023, the fifth and second last coup follows: Companion Songs (Marco Mlynek & Max Andrzejewski), a nice duo with the exceptionally good debut record Paper Parachute. They are joined by by the highly acclaimed experimental Math band H.C. Behrendtsen from the new music capital Leipzig, formerly EastGermany.
Companion Songs (Marco Mlynek & Max Andrzejewski)
There were ten years between their last joint project and the first voice memos that led to Companion Songs in 2020. The duo's long-standing friendship dates back to teenage days, their first band and home recordings in the basement. Even though their musical paths diverged for a while, their friendship remained. The long years of hiatus had not taken anything away from their common musical language. "Paper Parachute" takes off seamlessly from their first EP. It sounds warm and raw. In their pieces, they span a range from driving instrumentals and quirky folk songs to moments of deep rest. Honest music infused with energetic outbursts, with simple melodies and repetition at their heart.
Throughout all the smart twists and turns on "Paper Parachute," there is a heartfelt search for grounding. The lyrics provide streams of thoughts about letting go and breaking free from life loops. Finding spaces in between to build our everyday parachutes.
H.C. Behrendtsen
H., C. and B. from L. appear like three scientists wearing Aloha shirts occupying your basement party room. Their first album sounds as if it was recorded right there. Under laboratory conditions, of course.
Where outrageous surf rock allusions are breaking even the sturdiest wall of guitar, a touch of 90s rock nostalgia breathes a certain warmth into the crystal-clear math rock structure. A sound which offhandedly bridges academic and DIY-spheres making jazzists and hardcore kids feel at home equally. (Stefan Ibrahim)