Coralie Lonfat
Submitted by
Mathias
on Tue, 2016-04-26 01:55.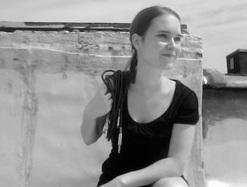 Coralie Lonfat – electronics / Lausanne
Coralie Lonfat, born in Lausanne (CH), is an electronic musician working on sound design, electronic compositions, and experimental improvisation with her laptop. After a background in classical and jazz studies (she graduated in piano performance + composition & arrangement), Coralie took a bigger interest in experimental and electronic music. Her work is now focused on mixing electronic sounds and field recordings to create compositions with various arranged and impromptus parts, development of personal textures, with many influences stemming from improvisation in contemporary art. She has been studying electronic experimental music with laptop virtuosos Ikue Mori, Chuck Bettis, and Dafna Naphtali in New York. She has been performing with other experimental musicians including a duo with laptop musician Chuck Bettis, and the bands "Silver Process", "Crying Acor", "Yokai", a.o. She is currently performing with the bands "INKlings" (Weiss/Voser/Lonfat), "EVI BEAST-Koï", "Spook" (Jhabvala/Frey/Lonfat), and the Insubmetaorchestra (founded by Cyril Bondi & d'incise).