Cowards bend the knee: Thieke/Cooper/Venitucci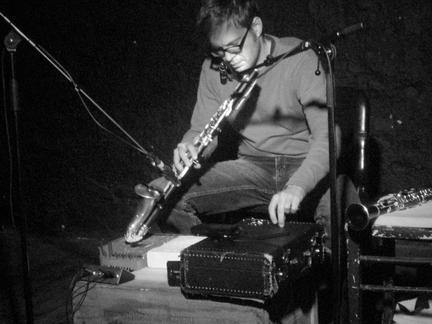 COWARDS BEND THE KNEE
-live music with the film of Guy Maddin-
The idea of the project is to do screenings of the film with live music, with different group setups in different cities; researching Evan Lurie's saying: "Every piece of music works with every piece of film, but, and this is a big but, every piece of music changes the meaning of every piece of film." The ten episodes of the film have exactly the same lenght of six minutes and nine seconds, and the only limit for the music will be to respect this structure, in order to create ten songs/pieces of the same lenght. The concerts/screenings will be recorded to create an archive of possible soundtrack(s) for the film, that later will be presented as an internet platform.
THE FILM:
Cowards bend the knee is a wholly mute black and white film that came out in 2003. It is 64 minutes long and consists of 10 chapters, each of them 6 minutes and 9 seconds long. It was originally designed to be a peepshow installation, with each of the film's chapters housed in a separate machine and was shot for the Power Plant Contemporary Art Gallery in Toronto. It was later turned into a full length feature for the theatre showings.
THE PRESS ABOUT THE FILM:
"Maddin's masterpiece! Wildly tawdry. (An) evocation of forbidden desire and monstrous repression. The murky ambience, and even some of the motifs, suggest early-'30s horror films like The Mystery of the Wax Museum or Mad Love. What's truly extraordinary is that it not only plays like a dream but feels like one."
THE VILLAGE VOICE
"There is something rather splendid about this extended-play peep show, as if Mr. Maddin had stumbled across a hitherto lost archive of cinema's less-than-innocent past."
THE NEW YORK TIMES
"Maddin's unlikely odyssey continues with COWARDS BEND THE KNEE, which might be his masterwork. Like all movies that earn the right to be called art, COWARDS succeeds on multiple levels and withstands repeat viewings."
THE NEW YORK PRESS
THE MUSIC:
The film is wholly mute, with an original film music to it, which won't be used for this project. The music of the live screenings is either fully improvised, or with collectively composed elements in it, that would be developped in the days before the concert. The only limit for the music is to respect the structure of ten episodes of the film, in order to create ten songs or compositions, each of 6'09'' length. All screenings/concerts will be recorded to set up an archive of possible soundtracks for the film. This collection should enable the spectator to create his own personal version of the film music, either by choice or randomly. As a possible future extension of this concept a wide range of musicians should be asked to contribute one composition/improvisation/song that will be added to the collection of 6-minute-long pieces.
http://www.michael-thieke.de/BandDetail/cowards.htm