DAS weekend - The Plant Orchestra"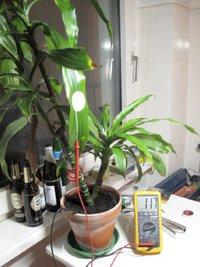 For some time experts and fanatics from diverse disciplines are convinced that sound influences plants . Music is often used to stimulate the growth of plants.
Anders Lauge Meldgaard and Christina Ertl Shirley reverse this situation and let plants make music themselves.
Do different plants create different sounds, and how can they be transformed so that human beings can hear them?
The artists are on a journey both historical and scientific, including research and interviews with leading figures in various disciplines such as: biochemistry, botany, diverse para-sciences, interactive electronics, biology, composition and agriculture.
Using this collected knowledge, Ertl-Shirley and Lauge Meldgaard are forming a plant orchestra and produce an overview of the "plant-music-research".
The first results of this work inprogress are presented in the installation "The Plant-Orchestra – the first participants" and their stage capability is tested.
This installation is part of DAS Weekend:
On the weekend prior to the festivals from 28th until 30th January, CTM, transmediale, Create Berlin and a multitude of Berlin partners together invite you to the inaugural Digital Arts & Sound (DAS)Weekend, when more than 70 independent organizations, venues and individuals active in Berlin will present their activities by setting up their own events and opening doors to their spaces.

DAS Weekend aims to draw attention to the many artists, spaces and initiatives active in Berlin with great commitment and exciting ideas to promote artistic work and discourse in the converging zones between digital arts, experimental music and sound art.
www.clubtransmediale.de/ctm-festival/das-weekend.html