Delphine Dora /// Lau Nau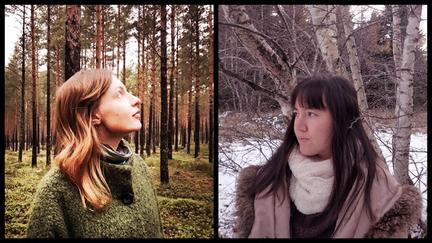 LAU NAU
Laura Naukkarinen - synth, git, voc
live (solo)
www.launau.com
DELPHINE DORA
piano/voc - live (solo)
delphinedora.wordpress.com
www.three-four.net
Through the night with Jochen Schwarz
https://soundcloud.com/joe-le-taxi
https://www.mixcloud.com/schwarzjochen
https://jocschwarz.wordpress.com
Doors 20:30, concerts 21:00
| 7-9 EUR |
@facebook
Since 2005, pianist, vocalist, improviser, composer and founder of the Wild Silence label, Delphine Dora has discreetly published recordings on imprints such as Siren Wire, Abaton Book Company, Was Ist Das?, Fort Evil Fruit, Okraïna, Bezirk and Feeding Tube.
Her iconoclastic music, which translates her personal world into sound, is based on an idea of composition as a spontaneous process, nourished by a variety of approaches: poems and texts by the likes of Walt Whitman, Sylvia Plath or Sarah Kane are set to music; songs at once both intimate and haunting are wrought from the aether (think about Sybille Baier or Maxine Funke); raw sketches melted into lost languages; free improvisations performed for piano and for various instruments; wild vocal experimentation explored… these provide the raw materials of Delphine's unique compositions.
She has recently revisited along with Arlt singer Eloïse Decazes – and a good deal of exuberance – Luciano Berio's Folk Songs, written for Cathy Berberian; plunged to the bottom Mocke's liquid guitar through thirteen delicate musical conversations, and – during the same period – summoned a shower of organ, percussions, electronic sounds, trombone and weird voices with experimentalist Sophie Cooper.
She has shared stage with artists among Liam Singer, Lau Nau, Josephine Foster, Baby Dee, Julia Holter, Marisa Anderson, James Blackshaw, Ashley Paul and performed in numerous venues and places in Europe at Cafe OTO (London, UK), EACC – Espai d'art contemporani de Castelló (Castellón, Spain), Uebel & Gefahrlich (Hamburg, Germany), Brotfabrik (Frankfurt, Germany), MK Gallery (Milton Keynes, UK), 5e (Copenhagen, Denmark) and some festival appearances including Le Guess Who / invitation by Julia Holter (Netherlands), Fanø Free Folk Festival (DK), Supernormal Festival (UK), Copenhagen Jazz Festival (Denmark).
In 2018, she will publish Eudaimon on three:four records, which she considers as her first genuinely solo album and her most accomplished project to date.
Lau Nau, aka Laura Naukkarinen, is one of the more interesting names in the Finnish music scene. Her songs are imbued with a cinematic breadth of vision and her idiosyncratic, finely honed soundworld builds on fragile, spectral otherness. She composes, produces and performs music for films, theatre and sound installations using both acoustic and electronic instruments and field recordings, combining everything from analogue synthesizers to found objects and her own voice. Lau Nau's first solo albums were released in the US (Locust music 2005 & 2008). The debut album, 'Kuutarha', won acclaim from the likes of Pitchfork and Dusted, with The Wire naming the LP in their top 50 albums of 2005, and citing her Philadelphia show of that year amongst "60 concerts that shook the world". She has been touring around the world ever since.
Lau Nau returns with her 5th album "Poseidon", released in three continents (Europe, USA, Japan). The album has garnered a wide acclaim across media and fans and is nominated for the Emma prize (Finnish equivalent of Grammys) in the critics award category. 'Poseidon' is a suite of luminous, melancholic, world-weary songs that exist in a world of all their own, treading the line between chamber folk and experimental pop. Centered around Laura's beautiful voice and piano, the album also includes a small cast of guest musicians, including Helena Espvall, Matti Bye, Pekko Käppi, Antti Tolvi and Samuli Kosminen who has mixed and co-produced the album with Laura. Each song is a gem of its own, with lustrous melodies spun from the web of seasons, by turns ghostly and earthy.
"her journey continues into the upper realms of iceberg-clear, hi-fi recording. If you've been following Lau's work from her (amazing) home-recorded debut Kuutarha, her evolution into a master of using the studio to its fullest is truly a feast for the ears" - Tiny Mix Tapes
"One of the most important pieces of art released this year" - 9,1/10 points, Rumba magazine
"Somewhere in the space between chamber music and experimentation, it is a reminder that, even if the landscape is epic in its scale and influence on the soul, the human experience is what makes it magical." Cold War Night Life