Diane Cluck // Angy Lord // DJ Jakobs Marc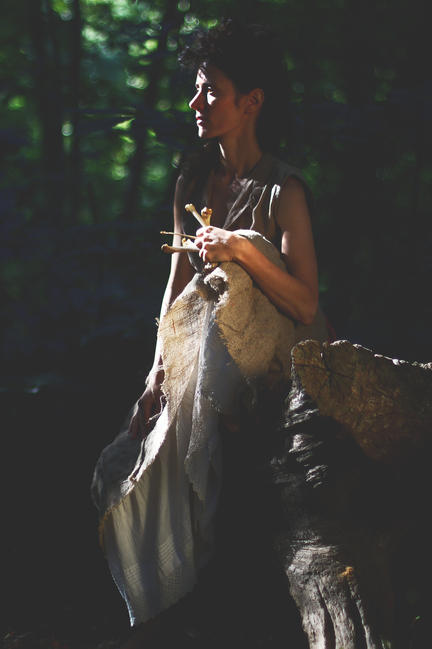 ByteFM, das klienicum und amSTARt präsentieren:
DIANE CLUCK
on tour with her new album "Boneset" (Important Records, 03/2014)
dianecluck.info
support
ANGY LORD
(drummer of Jolly Goods), who plays dark morbid songs on piano and organ
@ facebook
DJ Jakobs Marc
Doors 20:00 - Start 21:00 | AK 10/11 €
VVK 10 € (via koka 36 oder amSTARt ) | event@facebook
Diane Cluck is a Virginia-based singer-songwriter. Her ecstatic vocal style has been noted for its uniquely clipped, glottal beauty. She accompanies herself on instruments ranging from guitar to piano, harmonium, zither, percussion, and toy accordian, and often plays alongside cellist Isabel Castellvi.
Diane released her seventh album, Boneset, through Important Records in March — a mobius strip seeded with birds, death, wealth and poverty, boldness and heart. "Cluck's sparse compositions seem to float defiantly from some fortress the conscious self had long left behind", a reviewer from The Providence Phoenix recently wrote.
Fellow folk musician Devendra Banhart championed her early, referring to her as "my favorite singer-songwriter in all of New York City", and choosing one of her songs for his Golden Apples of the Sun compilation. Other supporters / collaborators include CocoRosie, who invited Cluck to open shows in the U.S. and Europe and released her Countless Times album through their personal label imprint. Sharon Van Etten, Florence Welch (of Florence And The Machine), and Laura Marling have all cited Diane's work as influential.
Prior to developing a loyal underground fanbase, Cluck was a standout performer in New York's Lower Manhattan and Brooklyn music scenes. She recorded and self-produced six albums that went on to receive international distribution and acclaim. Songs from her album Oh Vanille / ova nil appeared in Noah Baumbach's film Margot at The Wedding and the U.K. television series, Skins.
In 2012 Diane launched Song-of-the-Week–a fan-funded, subscription-based project through her website (http://dianecluck.info/sotw-songs) in which she writes, records and delivers new songs to subscribers. The process helped her develop many of the songs that appear on Boneset, and continues to generate new material for her live shows and future albums.
"Diane Cluck is a virtuosic talent with an emotionality that feels at once ancient and alien. Her mastery of her voice as an ecstatic instrument is so compelling."
Antony Hegarty (of Antony & The Johnsons)
"When Diane sings, I am lost in a realm of infinite possibilities. She breaks me down, she gives me chills, she makes me cry – this is when I love music."
Bianca Casady (of CocoRosie)
"Bell-clear and hotly austere, her lithe, dynamic voice hasn't much kin. Categorizing her as folk is simplistic. (Cluck) emanates something humble but mythic. Appalachia or ancient Athens?"
Time Out New York
"Diane Cluck seems like more of a force of nature than a mere singer/songwriter. She is the rare archetypal artist (without ironic quotes) though whom something pure and true flows."
Brainwashed.com