Die komplette Enttäuschung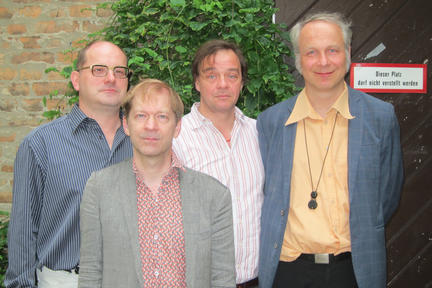 Die komplette Enttäuschung zum neuen Jahr ... | start into the new year with the complete disappointment ...
Doors 20:30 | Concert 21:00 | 10,- EUR
Rudi Mahall - Bassklarinette, Klarinette
Axel Dörner - Trompete
Jan Roder - Bass
Michael Griener - Schlagzeug
Website (en) Die Enttäuschung | Wikipedia (de) Die Enttäuschung
+++English below+++
Die Berliner Formation Die Enttäuschung besteht mittlerweile seit über 25 Jahren und hat bisher 7 Tonträger mit eigenen Kompositionen auf verschiedenen Labels veröffentlicht.
Für jeden Tonträger wurden jeweils komplett neue Kompositionen geschrieben und die bis dahin gespielten Kompositionen nicht mehr aufgeführt.
Deswegen gibt es heute Die komplette Enttäuschung. Es werden Stücke wieder gespielt, die seit Jahren und Jahrzehnten nicht mehr live, sondern nur noch auf Tonträgern von Die Enttäuschung zu hören waren.
+++English+++
The Berlin based band Die Enttäuschung (translates the disappointment) has been around for more than 25 years and released 7 records on different labels.
For each record completely new compositions has been written and the compositions played until then were not performed live anymore.
That's why Die komplette Enttäuschung (translates the complete disappointment) is born today. Pieces are played again, which have not been performed live for years and decades - and since back then only could be heard on recordings of Die Enttäuschung.
Mit freundlicher Unterstützung durch die Senatsverwaltung für Kultur und Europa | With the kind support of the Senate Department for Culture and Europe