Dieb13+TonyBuck/Wut und Wirklichkeit/MMM/DJ Astie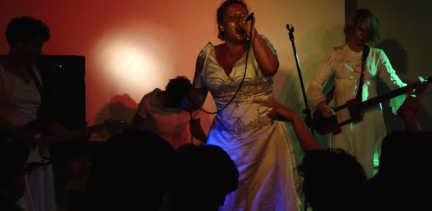 DIEB13 (AT) & TONY BUCK (AUS)
dieb13 - since the late 80ies he has worked continuously in rendering cassette players, vinyls, cd's and harddisks into instruments.
http://dieb13.klingt.org
Tony is regarded as one of Australia's most creative and adventurous exports, with vast experience across the globe. As a drummer, percussionist, improviser, guitarist, video maker and producer, he has been involved in a highly diverse array of projects but is probably best known around the world as a member of the trio "The Necks".
Apart from The Necks he has played, toured or recorded with Jon Rose, Nicolas Collins, Tenko, John Zorn, T. Cora, Phil Minton, Haino, Switchbox, The Machine for Making Sense, Ne Zhdall, The EX, Clifford Jordan, Ground Zero…
MOISHE MOISHE MOISHELE (FR)
French-based trio Moishe Moishe Moishele is the latest music project from Mehdi Shobo Hercberg, Odot Lamm and Vincent Tordjman. Located at the exact crossover point (not a very crowded junction) between the Hasidim and Acid House, Moishe Moishe Moishele is a high-energy, high-concept Jewish supergroup that claims to be capable — in terms of racial-national self-caricature — of giving bands like Kraftwerk and Yellow Magic Orchestra a run for their money. Their show is something to behold – managing to walk the line between extreme humour and intelligence, satire and celebration. Moishe Moishe Moishele is the brainchild of ShoboShobo, a brilliant artist an illustrator who lives in Paris who has, among many other things, designed T-shirts for H&M.
http://www.myspace.com/moishemoishemoishele
Wut und Wirklichkeit - heavy garden noise
Swantje Henke (vocals), Uli Ertl (guit), Johanna Olausson (bass) and Ruth Waldeyer (drums)
The Quartett from Berlin reduces hypnotic-tribalistic Beats and Riffs to a Maximum of impact and energy.
The famous french Deejane SYLVIE ASTIÉ is head and heart of the Doki Doki collective, which arranges the best underground parties in Paris. Doki Doki also releases records, organizes exhibitions and festivals and they are experts in maximising subculture and fun under precarious conditions.Everything between intelligent electronic, techno and chanson can happen tonight!