Dinah Bird+Jean Philippe Renoult//SallyMcIntyre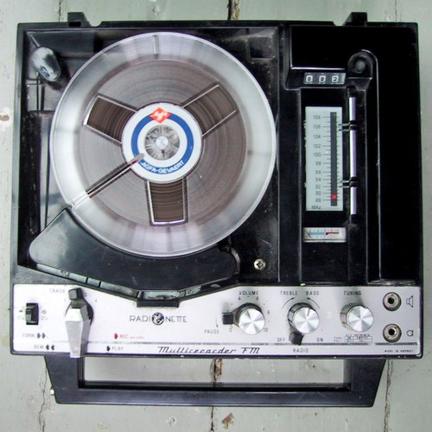 Radio als Instrument part 1
***evening will be streamed at reboot.fm***
Dinah Bird+Jean Philippe Renoult
Dinah Bird is a sound and radio artist living and working in Paris. Her practice includes broadcasts, soundworks, installations and audio publications that are often inspired by early transmission technologies and archives. Her current interests include old weather, dead media, aeronautics, and high frequency trading. Recent commissions include A.V.I.O.N, a radio installation inspired by the world of aeronautics and Take Flight, a composed soundscape starring planes, drones and frequencies made with Jean-Philippe Renoult for ABC Australia's Creative Audio Unit. Works have been produced for BBCRadio4 and 3, France Culture's Atelier de Création Radiophonique, Resonance FM, Kunst Radio, Arteradio, through the Radia network, and have been presented at radio festivals in over twenty-five countries around the world. In 2011 she was awarded the Prix Luc Ferrari.
A copy of her radio record A Box of 78s has been on an eighteen month journey around the world being passed from radio station to radio station in a sort of relay race – but slower, and without any other competitors. It is currently in transit somewhere between Serbia and Israel.
Jean Philippe Renoult
Jean-Philippe Renoult *1963, is a writer, radio producer and sound artist based in Paris. He has worked as a radio producer for French public radio, including France Culture, for over fifteen years. His work focuses on field recordings and electroacoustical transformation of environmental sounds. Recent works include A.V.I.O.N, a radio installation inspired by the world of aeronautics and his ongoing audio grafitti project, Tag Audio Loops, which was selected for the Marl Media Art Award in Oct 2014 and now features over 120 recordings from all over Europe, the latest sighting was at Waverly train station in Edinburgh. His radio pieces have been played on Resonance FM, Kunst Radio, France Culture, ABC Classic, the Radia network and have been edited on the Deep Wireless, Vibrö, Aphasia and Subrosa labels. He currently teaches creative radio practices in Paris and has recently taken up the shruti box.
http://bird-renoult.net/dinah-bird/
Shruti Loops is a new live performance by Jean-Philippe Renoult where polyphonic harmonium drone sounds made with a three octave 'shruti box' (a traditional instrument from north India) are artfully re-interpreted with prepared tape loops plundered from a wide variety of 20th century musical folklores, from vintage pop, musicals, to gospel and lost country classics. Sometimes DinahBird joins him and adds a touch of field recordings and live sampling.
Shruti Loops pays tribute to the old time radio songs of the 1940s, 50s and 1960s. By associating them with the breathy, hoarse, and sometimes insistent sound of the shruti box, old forgotten favourites take on a new millennial hue.
Shruti Loops is an extension of Tag Audio Loops, the ongoing sonic tagging work where prepared loops are broadcast outdoors and in the process modify the natural soundscape.

sally ann mcintyre lives and works in dunedin, new zealand.
harnessing the material of the airwaves to the practices of phonography and more archival forms of sound-collecting, she programmes a micro radio project station (radio cegeste 104.5FM) as a sporadic, mobile, small-radius platform for unstable site-responsive radio art events. radio cegeste was originally built in a workshop with the japanese radio artist tetsuo kogawa in 2006, to his simplest transmitter mini-FM schematic. following tetsuo's thinking that "airwaves are wasteful and not ecological. big radio is no more necessary," sally has, since then, operated radio cegeste as a decentralised, distributed, localised, minor, artist-run and nomadic form of the medium, opening its small circle of transmission as a fleeting clearing within many contexts and environments.
projects consider sound, ecology, memory and transmission through research-based, curatorial, and artistic investigations. not unrelatedly, sally is the new zealand programmer for the 24 station radia network, which promotes the airwaves as a peer-to-peer exhibition venue for radio art; for each radia season she commissions a new radio art work from a new zealand (or australian) artist and hosts the weekly radia program on the dunedin independent broadcaster radio one 91FM. she is also a poet, and that writing can be read on another weblog, called a gap, invisible in the photograph