Distruktur im Ausland : Double Première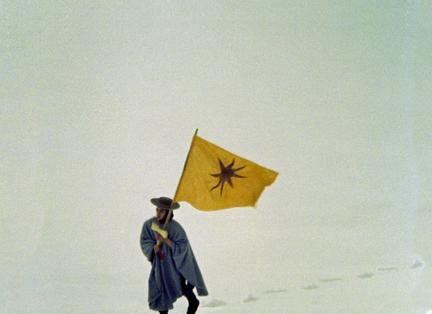 In the Traveler's Heart
Lithuania/Germany/Brazil - 16mm, colour, sound, 20min
The winter reigns as the Traveler crosses by feet an ancient landscpae.
In this place there's also another presence, someone who's very similar to the Traveler. Does the Traveler realise this figure that cohabits the same space as him? Is the other a guardian angel or a devil?
Filme de pedra
Germany/Brazil - 16mm, B&W, live sounds, 20min
Who has ears to listen to the voice of stones?
The two films Distruktur will present in Ausland will be shown in Berlin for the first time.
'In the traveler´s heart' was made during an artist residency in Lithuania and was commissioned by the Contemporary Art Centre Vilnius. The film was recently screened in film festivals in Brazil and had its european première in Torino Film Festival in Italy.
'Filme de pedra' was shot in Florianópolis -Brazil, and Berlin between 2011 and 2014. The film deals with the mythical dimension of stones, reproducing and amplifying the visible and audible frequencies they transmit to human beings. During the projection of 'Filme de pedra' sounds and music will be performed live.