d+m: Stewart // Ramos // Lane & Barnett-McIntosh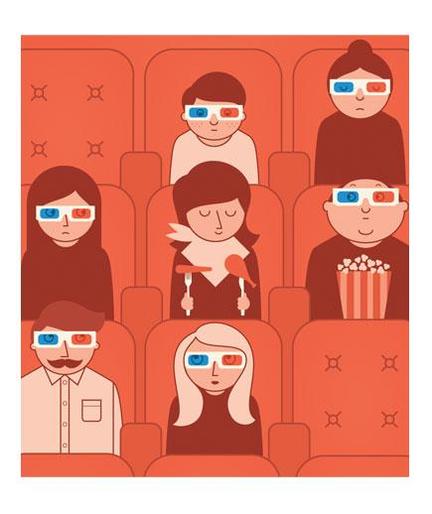 series dinner and a movie #2 (**no dinner served)
doors 20h30, start 21h
---
Visual artist/composer Lisa Stewart screens her short film "The Increase" (2013, Eng, 13mns).
Says Stewart, 'The Increase explores anxieties and apathies toward current environmental concerns through an abstract fantasy narrative that borrows language from advertising, propaganda, documentary and educational video styles, re-ordering them with a new logic. The work places an original narrated story over reedited found VHS footage, with added text and original soundtrack. These multiple layers float the work between epochs into a fictional space where the past is used to reflect upon the present and speculate about the future.'
---
Begun in 2014, Irene Fernández Ramos' "Heterotopia in the Lavatory" aims at exploring different understanding of spaces by reproducing classical portraits in airplane lavatories. The comical result of the repetition/reproduction of these works of art challenges notions of beauty and representation in art. At the same time, the artist wants to question the illusion of hypermobility in our post-post-postmodern world by using planes' toilets as spaces for liberation and expression.
More info on Irene's project can be found here:
https://heterotopiainthelavatory.wordpress.com/
---
Rebecca Lane and Antonia Barnett-McIntosh perform "Conversation," for two people, small homemade loudspeakers and tape.
About the piece: 'Conversation traces the boundaries between musical composition and performance, dance, spoken word and sculpture, and uses elements from these disciplines in order to create a piece that is at once a live musical composition, a gestural performance piece and a sonic artwork.'
http://antoniabarnettmcintosh.com/Conversation 
++++++++
series 'dinner and a movie'
what is it?
in a distant part of the world, 'dinner and a movie' is a call for a night on the town - an evening of pleasure, curiosity, enlightenment, frivolity, engagement and more. at its core lies an exceptional variety of stimulations - from food, beverage, the new restaurant you've wanted to check out downtown, conversation, a film, the late-night ice cream joint next to the sleek wine bar, and whatever might happen thereafter. our series hopes to recreate this multitude of informations, but on terrain that is decidedly more bizarre. there won't always be a movie. and you'll probably never get dinner. but we promise your brains will be tantalized in more ways than one.