D.Markham / IchNoise / Jasmine M.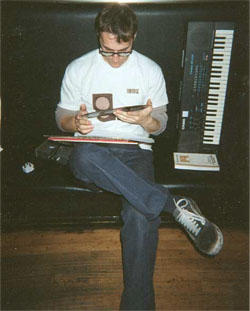 Dirk Markham
grew up in Aboyne, a village in "Royal" Deeside in the north east of Scotland (an hour inland from Aberdeen). Dirk has been making experimental recordings and teaching himself every intrument he can get his hands on since his years studying mental philosophy at Edinburgh in the late 90s. His music is mainly instrumental although occaisonally the odd folk-rock song pops up out of nowhere.
http://www.myspace.com/dirkmarkham

I use a simple multitracker with four channels. I introduce the sounds that I recorded with the aid of walkman. I register a track to time and every track is independent from the other. in this manner I think that the sounds be freer and every time that I play I obtain some different compositions that depend, I think, from my state of mind. I think that the utilization of the tapes is had to to the fact that I feel them more animals,,, In my work the chance nature and the mistake are fundamental. My sounds are free and, how I said, independent from my intervention that is able to be smaller but also worthless.
J a s m i n e Maschine

Jasmine Maschine - Live Sonic Folk
with drummer Lucinda Dayhew.
Jasmine is also one half of Minit-
www.myspace.com/minitmusic