Domestic Hybrids #2: Slurge / Glühlampenmusik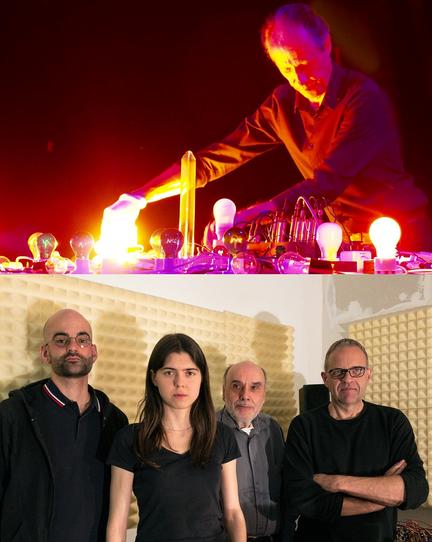 Domestic Hybrids #2
Glühlampenmusik | Light Bulb Music
Michael Vorfeld – light bulbs, electric elements, mixer
Slurge
Carina Khorkhordina – trumpet
Eric Bauer – electric guitar
Burkhard Beins – bass guitar
Wolfgang Seidel – drums

Doors 20:00, Concerts 20:30 | 10 EUR
Tickets an der Abendkasse (die Kapazität ist reduziert, bitte rechtzeitig kommen)
tickets at the door (capacity is limited, please arrrive early)
+++ please scroll down for info on Covid-19 precautions +++
@facebook

On two evenings in September Domestic Hybrids presents 2 x 2 experimental music projects from Berlin, each of them challenging genre-specific and/or performative constraints in their idionsyncratic way. #2 features the audio-visual performance Light Bulb Music by Michael Vorfeld, followed by the krautrock-noise of Slurge with ex-Ton Steine Scherben drummer Wolfgang Seidel, Burkhard Beins on bass guitar, Eric Bauer on electric guitar and trumpet player Carina Khorkhordina.
Glühlampenmusik ist eine audiovisuelle Performance des Perkussionisten, Klang- und bildenden Künstlers Michael Vorfeld, deren spezifische Ästhetik durch die Verwendung verschiedener Glühlampen und elektrischer Schaltelemente entsteht. Die Veränderung der Lichtintensität, das Glimmen der Glühfäden und die rhythmische Vielfalt der flackernden und pulsierenden Glühbirnen wird unmittelbar in eine mikrokosmische und reichhaltige elektro-akustische Klangwelt übersetzt. Ein synästhetisches Erlebnis, bei dem die akustische und die visuelle Ebene zu einem unauflösbaren analog-technoiden Hybrid verschmelzen.
www.vorfeld.org/gluehmusik.html
Die Band Slurge vereint mit dem Ex-Ton-Steine-Scherben-Drummer und Conrad-Schnitzler-Kollaborateur Wolfgang Seidel, dem Echtzeit-Perkussionisten Burkhard Beins am E-Bass, dem Elektronik-Experimentator Eric Bauer an der E-Gitarre, sowie der seit einigen Jahren in der Berliner Szene äusserst umtriebigen Trompeterin Carina Khorkhordina vier Generationen experimentellen Undergrounds. Eine eigenwillige Mischung aus Krautrock, Noise und No Wave.
www.burkhardbeins.de/slurge
Covid-19 Information:
Wir freuen uns sehr, wieder veranstalten zu können und werden weiterhin Vorsicht walten lassen. Deshalb bitte einen negativen Covid-Test mitbringen (nicht älter als 24h, kein Selbsttest), einen Impfnachweis (mindestens 15 Tage alt) oder einen Genesungsnachweis (min. 28 Tage, max. 6 Monate alt).
Bitte im Innenraum Maske tragen. Bitte füllt / füllen Sie am Eingang die Covid-19 Dokumtationsliste aus. Während der Veranstaltung wird maschinell gelüftet.
Covid-19 Information:
We are very happy that we are open again but see lots of reason to stay cautious. Therefore, please bring an actual Covid-19 test (not older than 24h, no self test) or vaccination proof (minimum 15 days old) or a proof that you overcame Covid-19 (min. 28 days, max. 6 months ago).
Please wear a medical mask inside and fill in the contact list at the entrance. Our air condition is running during the event.
kindly supported by Initiative Neue Musik Berlin
- media partner: Digital in Berlin /// field notes - Monat der zeitgenössischen Musik