Donna Regina // Molly Nilsson // + DJ Strobocop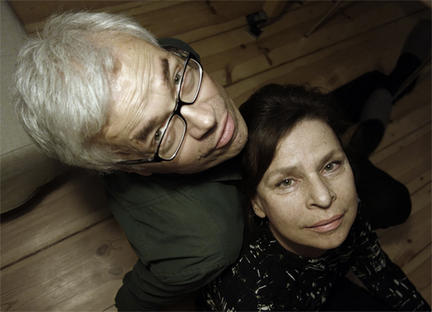 amSTARt presents:
DONNA REGINA (Karaoke Kalk)
-with their new album "Holding the mirror for Sophia Loren"-
MOLLY NILSSON (Dark Skies Association / Night School Records)
plus: DJ Strobocop
Doors 20:00h, start 21:00h | VVK @ koka36 | AK 10 € | concert@facebook
Wer keine Wellen hat, der muss auf Flächen surfen! Vertontes Herzklopfen, mit der Sehnsucht nach Weite und altem Glamour - Donna Regina und Molly Nilson wissen, wie man Oberflächen schafft, ohne die Untiefen zu verbergen. Das ist schöne, romantische Musik, liebe Kinder! Und das ausland liegt ja sowieso am Meer...
"Holding The Mirror For Sophia Loren" is Donna Regina's 7th album on Karaoke Kalk. During an existence that spanned nearly two decades and produced several albums, the Cologne-based electronic indie pop-group - centered around the breathy vocals of singer Regina Janssen, who worked alongside Günther Janssen, her fellow producer, multi-instru-mentalist, and husband -- were initially compared to Saint Etienne and One Dove. Through the years, however, they established a distinct, relaxed sound throughout a consistently stimulating and hushed body of work. While most of their material was clearly intended for home-listening environments, Donna Regina remained connected to dance music through remixes handled by the likes of Matthew Herbert, Mouse on Mars, Michael Mayer, and Isolée. In the late '90s, the group left the Strange Ways label and joined the Karaoke Kalk-roster with A Quiet Week in the House, Northern Classic (2002), Late (2003), Slow Killer (2005), More (2007), and The Decline of Female Happiness (2010). Two anthologies, both of which were issued in 2004, rounded up their best output and covered distinct phases: The Early Years, released on the Polish Gusstaff label, and A Collection of Little Secrets, released on France's Tricatel. They returned in May 2014 with the internationally flavored album Holding the Mirror for Sophia Loren!
title song "holding the mirror" @ youtube
Molly Nilsson has been running her own label and producing her own music since 2007, releasing 5​ albums, several eps and producing evocative videos that elaborate on the themes she is obsessed by. The music released under own moniker is a heartfelt rendering of romanticized pop music, gloriously DIY in method and honest in practice. Clearly influenced by the minimal synthesizer pop of the 80s but also adept at timeless melancholic song writing, each song presents a compact sound world which twinkles with a sense of loneliness and the warmth of its opposite.
Since her first DIY releases Nilsson's music has been gathering pace in the underground pop world's consciousness. In 2011 John Maus acknowledged her songwriting by duetting with her on 'Hey Moon,' a Nilsson original that was included on his third album 'We Must Become The Pitiless Censors Of Ourselves.' Molly Nilsson's latest album "The Travels" was released June 21st 2013 on Dark Side Association and Night School Records​.
- & @ youtube