On Drawing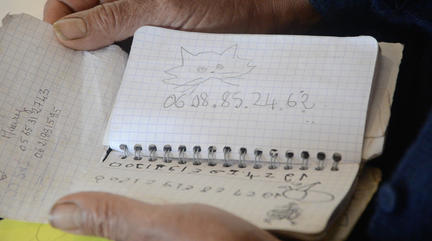 Ana Mendes
On Drawing is a performance/lecture that explores the connections between drawing and thinking in the realms of arts and science. It is based on Mendes' video "On Drawing", filmed with Mina Pegourie, a Moroccan woman who cannot read or write, thus she uses drawing as a tool for everyday life.
http://www.anamendes.com/
Tabea Magyar
1+1
Tabea Xenia Magyar, 1+1: The lecture performance 1+1 is based on a daily practice. For over a year, Magyar made one poem and one drawing, every day. To be entirely accurate, there were missing days, but the practice was structured around this basic dedication, this obligation. Like any other minor technology of the care of the self, a space had to be found for it every day. So the form of the life deforms the work, its aesthetics. Writing and drawing are wedged into small holes in the day, gaps that scarcely exist and offer only the most awkward refuge. Working in this way as a means of finding a way to work at all means accepting, at times, a certain artlessness. A kind of anti-poetry. Yet somehow the scene possesses a luxuriant intimacy.
http://tabeaxeniamagyar.com/
Hanae Utamura
CONSTRUCT: Re-Act' (2014)
Combining a raw energy with scripted conceptual basis, the performance CONSTRUCT: Re-act explores the ontology of performance in the processes of making and un-making through the action of sweeping.
To sweep is to question, and to ask what progress means, and contemplate society's behaviours and habits in our contemporary life.
While developing the language of 'sweepology', a singular action becomes a collective performance, echoing into the daily activity of sweeping in the world.
http://www.hanaeutamura.com/
The program is part of the Performing Arts Festival.
entrance: 9€/5€
The program is part of the Performing Arts Festival 2017
https://www.performingarts-festival.de/