Driftmachine /// Sonae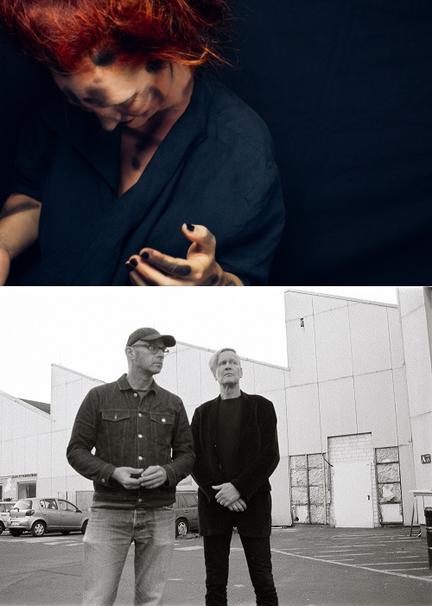 DRIFTMACHINE (Berlin / Umor-Rex) live
Andreas Gerth + Florian Zimmer
w/ Mika Shkurat (visuals)
soundcloud.com/driftmachine
Against the clock @ youtube.com
SONAE (Köln / Monika Enterprise) live
sonaemusic.net
soundcloud.com/sonae
Doors 20:00, concerts 21:00 | 9 EUR | @facebook

Modular synth duo Driftmachine started as workshop where Andreas Gerth and Florian Zimmer, producers of an extensive back-catalog of records and projects, focused on synth exploration and searched for a new approach for groove and bass-driven music. The project steadily evolved and the duo ended up releasing several albums on the acclaimed Mexico-based experimental imprint Umor Rex. They perform live regularly, working with 2 modular systems functioning in sync. Driftmachine's sound is obsessive, symmetrical and multilayered; a deep and elegant language based on the shaky, unpredictable foundations of modular synthesis. Their latest release "Shunter" came out in summer 2018. They perform tonight with Mika Shkurat, a visual artist from Kiev.
"Setting out to create a sense of rhytmic propulsion or narrative progression from something as untamebale as a modular set-up is asking for trouble, but Driftmachines´s 4th album takes up the challenge..." The Wire
"As calming as the material that precedes it is, this one never lets you get too comfortable. In that sense it points back to some of the great works of the late 20th century. It lines up nicely with the history of serious electronic music, without feeling anything like a throwback." Exclaim!
SONAE's second album "I started wearing Black" was released on Monika Enterprise in 2018, receiving widespread ciritical acclaim. Monika had also released Sonae's debut album "far away is right around the corner" in 2015. Sonae founded the projects "female:pressure electronic concerts" and the Cologne-based "electronic:music:home" in 2014, both dedicated to female artists in electronic music.
For the album "leise fäden", she collaborated with Danielle de Picciotto, and had composed remixes for british ambient musician 36, Markus Guentner or Cio d'or besides EPs and compilation contributions.
"I Started Wearing Black is a striking album. […] Despite its tight rhythms and dancefloor-esque beats, the music is intelligent enough to whisper of revolution, and brave enough to confront its distressing situations, of love lost and romantic disintegration." James Catchpole, Fluid Radio
"For all its sharp edges, I Started Wearing Black is an unexpectedly soothing listen. There is a gentleness to Güttler's compositions. She has a way of making beautiful music with sounds that – in other artists' hands – would be overwhelming and difficult." Kevin Press, Baddpress
"Sonae hat das Schwierige am "schwierigen" zweiten Album nicht verdrängt sondern kultiviert und vielleicht gerade dadurch etwas von der Leichtigkeit des Debüts in ihre düster kalte Gegenwart hinübergerettet." Frank P. Eckert, Groove