DU CHAMP // BIBLO // EPIPHANY NOW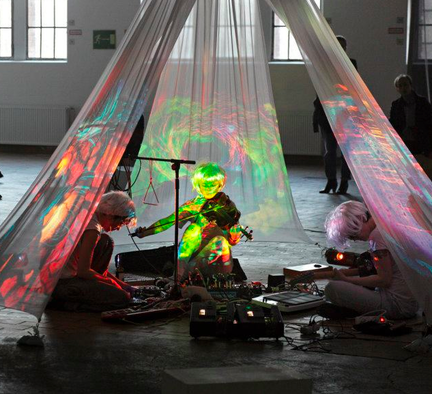 Liebig12 & ausland present:
DU CHAMP (Italy/Berlin)
BIBLO (Istanbul)
EPIPHANY NOW (Berlin)
************************

DU CHAMP
DuChamp is an Italian scientist, musician and curator based in Berlin, religiously devoted to drone. Drone is related to a precise childhood memory: the sound of the hair dryer, that her mother used to fix her hair: the sound of care, bliss, and infinite love. Since Aug 2010 she performed several time in Berlin (DE), in Italy, Turkey, Poland, Belgium and in the US West Coast. DuChamp uses different instruments (bass guitar, baritone guitar, keyboard, accordion) to find the closer one to "that" hair dryer. Her first solo album "NAR" has been released on Apr 14th from Boring Machines.

http://duchampdrone.tumblr.com/
BIBLO
Istanbul based artist Biblo, has been creating music out of everyday noises, field recordings and lazy, confused pieces of beats. Her record "On Ugliness" was released in a limited edition of 200 pieces as the first ever record on Quetzi Records (a-musik/Cologne) in May 2010 and her latest album 'Projection' is released in March 2012 through her bandcamp. New album 'Moved' is out on German label Aentitainment.
www.biblo.bandcamp.com
https://soundcloud.com/biblo
EPIPHANY NOW
is an electronic trio performing in a colored projection tipi. EPIPHANY NOW is a circle that improvises a chameleon of sound & visuals supported by PETIT NEON and his incredible slide projections.
ABOUT THEIR EQUIPMENT keytare // mpc500 // stylophon // blockflöte // mundharmonik // mosuq-alarm-clock // triangel // gong // toms // kazoo // sampler // microkorg // kaossilator // evil circuit bending dwarf // music box // mini – cymbals // toy guitar // drumpad // klangstab // glockenspiel // bratsche // acoustic laptop // gitarre // microphones // panflöte // helicondelay // zoomguitarrefx // qin-yuan // smartphone-apps // simona // percussionegg // saxonett
Find out more about the sounds & artists behind EPIPHANY NOW here:
http://epiphany-now.tumblr.com/
https://soundcloud.com/epiphany-now
DOORS OPEN 20:30, PERFORMANCE STARTS 21:00!!!