Ectoplasm Girls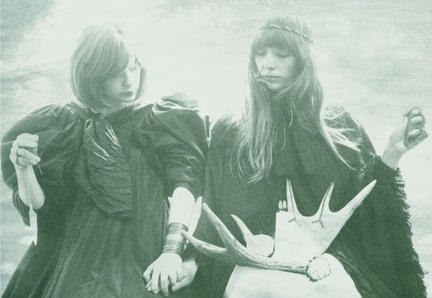 Ectoplasm Girls
- concert -
Nadine & Tanya Byrne
sounds from the decks before & after the gig: Jean-Marie Dhur
Doors 20:00, Start 21:00 | @ facebook
Ectoplasm Girls is an audiovisual ongoing project initiated in 2007 by sisters Nadine Byrne and Tanya Byrne, with the intention of expressing their joint fascination and experiences with death and dreams, manifesting these subjects trough sound and video.
Their second LP "New Feeling Come" will be released in April 2016 on iDEAL Recordings.
Previous Releases:
"Ectoplasm Girls/Net Shaker" (split 7" / Sleeping Giant Glossolalia
)
"TxN" (LP / iDEAL Recordings
)
"Forever Nothing" (cassette / Living Tapes)
soundcloud.com/ectoplasmgirls

review on "TxN" by Daniel Spicer (THE WIRE, 9/2011)
new video "Transmission from the 18th Century"
'R.I.P. EVERYBODY' (video / live streamed concert)

Tonight's programme is presented in cooperation with Zabriskie bookshop, where Nadine Byrne will tomorrow, Friday 22nd January, present selected video works and discuss with the audience - an evening under the title "A different Gesture".
Detailled info: zabriskie.de