Eddie Prévost
Submitted by
Mathias
on Wed, 2018-05-09 11:54.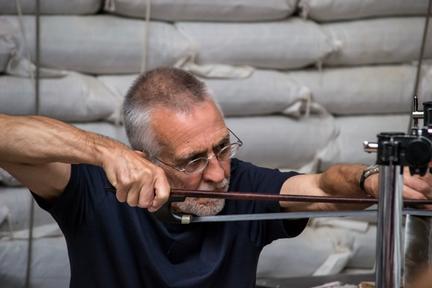 Edwin Prévost
born 22nd June 1942. Known as Eddie.
experimental percussionist — free-jazz drummer — theorist — writer — educator — record producer— publisher
experimental percussionist
Co-founder in 1965 of the experimental improvisation ensemble AMM. 1968 — "These players are immensely distinguished: their work is not for those with an impatient ear. They are able to suspend time, to magnify, hold and examine the sounds which use it up relentlessly, with patience and sympathy, risking all in the making of each performance, so that the audience
must be prepared for near disaster or some kind of unmeasurable success; they constantly reappraise the activity to which they devote themselves, and we are privileged to perceive its development." (Musical Times, UK)
1996 — "In the realm of 'free improvisation' a phrase which unites two woefully over-worked yet underestimated terms, AMM is one of the few ensembles that not only meets the rigorous demands of the extemporaneous genre but creates breathtakingly beautiful music as well. A truly Olympian institution in the league of the Duke Ellington Orchestra, the Miles Davis
Quintet, or the Sun Ra Arkestra." (East Bay Express, San Francisco/ USA)
2002 — "It's testimony to AMM's creativity that not only do these performances sound (and ultimately feel) utterly unalike, but either performance sounds different with each new hearing."
2011 — "Dozens of 'composers' still try to hide inside that kind of shell, yet AMM — with or without Keith Rowe — have always walked at least ten years in advance. Imitators will perennially be doomed to failure, in spite of the fact that some are even collaborating with these overly democratic masters." (Massimo Ricci)
free-jazz drummer
Began music life as a jazz drummer. A recurring interest in this form has been maintained, although always with an experimental ethos.
Old review — "Prévost's free drumming flows superbly making perfect use of his formidable technique. It's as though there has never been an Elvin Jones or Max Roach." (Melody Maker 1972)
Newer review — "Relentlessly innovative yet full of swing and fire." (Morning Star 2016)
theorist/writer
A constant thinker about the implications of experimental music.
— No Sound Is Innocent: AMM and the practice of Self-Invention – Meta-musical narratives, Copula, 1995
— Minute Particulars: Meanings in Music Making in the Wake of Hierarchical Realignments and Other Essays, Copula, 2004
— The First Concert : an adaptive Appraisal of a Meta-Music, Copula, 2011
Numerous other articles. Has also lectured and led discussions about the theory and practice of improvisation.
Most recent:
— 'Exploratoria', is a chapter in a book: Reinhard Gagel, Matthias Schwabe (eds.), Researching Improvisation —Essays About the Exploration of Musical Improvisation,Transcript Verlag,
Bielefeld, Germany, 2016.
— 'Confronting a Darkening World. AMM 50 years — An Aesthetic Memorandum.' Critical Studies in Improvisation/Etudes critiques en improvisation, Vol 11 No.1, Guelph, Canada. www.criticalimprov.com.
educator
Best known for the weekly London workshop he first convened in 1999. This develops a critique and the practice of collective searching.
record producer
founder and producer of Matchless Recordings
www.matchlessrecordings.com
publisher
founder and publisher of Copula — an imprint of Matchless Recordings and Publishing
— No Sound Is Innocent: AMM and the practice of Self-Invention – Meta-musical narratives, Copula, 1995
— Minute Particulars: Meanings in Music Making in the Wake of Hierarchical Realignments and Other Essays, Copula, 2004
— The First Concert : an adaptive Appraisal of a Meta-Music, Copula, 2011
— Cornelius Cardew — A Reader (ed. Edwin Prévost), Copula, 2006
— John Tilbury: Cornelius Cardew a life unfinished, Copula, 2008